Moderna kvarnerska kuhinja prepoznata je na mnogim svjetskim izborima, a The World's 50 Best Restaurants uvrstio je Plavi podrum dva puta na listu najboljih restorana na svijetu
Restoran Plavi podrum nalazi se u slikovitoj lučici u Voloskom gdje već 22 godine nastoji ponuditi ono najbolje od Kvarnera i Istre. Osim prirodnih ljepota i šarma, to su u prvom redu vrhunske namirnice.
Plavi podrum na listi najboljh restorana na svijetu
U krugu od pedesetak kilometara od restorana nalazi se cijela rapsodija gurmanskih delicija – odlična oborita riba, tartufi, maslinova ulja koja neprestano dokazuju svoju svjetsku kvalitetu, divlje šparoge, kesteni, raznoliko šumsko bobičasto voće, gljive, a nikako ne smijemo zaboraviti ni respektabilni asortiman vina.
Sva raskoš morskih plodova, kapesante, kanaštrele, hobotnice, sipe, pa sve do trlja, brancina i orada, ne mogu s trona skinuti kvarnerski škamp, koji svojom organoleptičkom osobitošću toliko odskače od ostalih i nezaboravna je poslastica. Upravo se Plavi podrum može pohvaliti najboljom ponudom i ne propuštamo uživati u ovoj deliciji svakim novim posjetom.
Plavi je podrum odraz njegove vlasnice. Daniela Kramarić cijeli je svoj život vezana uz ugostiteljstvo. Njezin otac Josip Tariba svoj je prvi restoran Mali raj otvorio je 1969. godine točno na dan Danielina rođenja. Doajen je hrvatskog ugostiteljstva i čovjek koji je više od 40 godina uspješno vodio restorane, među kojima je najpoznatiji Amfora, zatvoren 2013. godine.
Uz dugu tradiciju i neprestanu težnju za napretkom, posljednjih je godina nova energija rasplamsala strast koja kroz ukusne kulinarske kreacije privlači sve veću pažnju gurmana.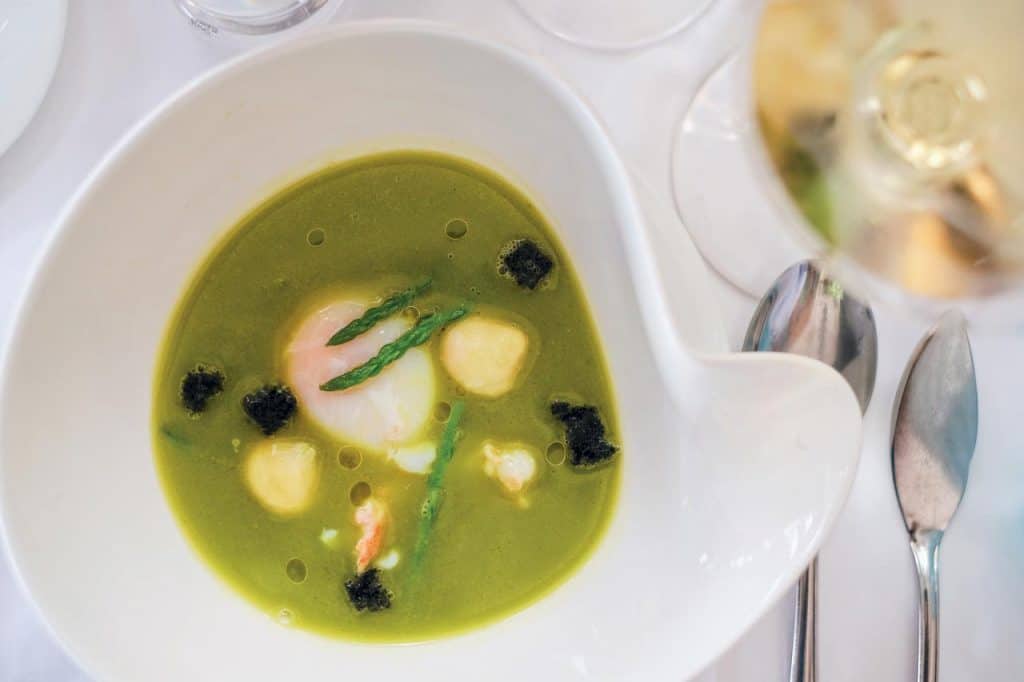 Tu su izvrsnost prepoznali i ocjenjivači San Pellegrina, a The World's 50 Best Restaurants uvrstio je restoran Plavi podrum 2008. i 2010. godine na listu najboljih restorana na svijetu. Nitko u Hrvatskoj nije ponovio taj uspjeh.
Lepršavo, kao topli lounge jazz, jelovnik je sačinjen od igre tekstura, vizualne dojmljivosti i nadasve intrigantne slagalice okusa, s fokusom na najkvalitetniju ribu kvarnerskog zaljeva. Ovdje se priprema moderna kvarnerska kuhinja temeljena na sezonskim lokalnim namirnicama kao nepresušna inspiracija.
Uz dva degustacijska menija i široku à la carte ponudu, chef kuhinje Daniel Jardas inovativnim pristupom reinterpretira bogato gastronomsko nasljeđe Kvarnera i Istre. Klasici poput morskog pršuta od jadranske tune na kremi od crnih tartufa sa sorbettom od merlota i crnom solju, te tagliolini duginih boja sa škampima, kozicama, breskvama i istarskim crnim tartufima, i dalje su popularni i, srećom, zadržani na jelovniku.
Rižoto od škampa i kozica s dehidriranom ciklom i ikrom od pastrve, kao i sirove repove kvarnerskih škampa na jabukama mariniranim u votki s tekućom majonezom od Ipšina leccino maslinova ulja, obavezno morate kušati. U kojoj god kombinaciji bili, škampi su ovdje savršeni.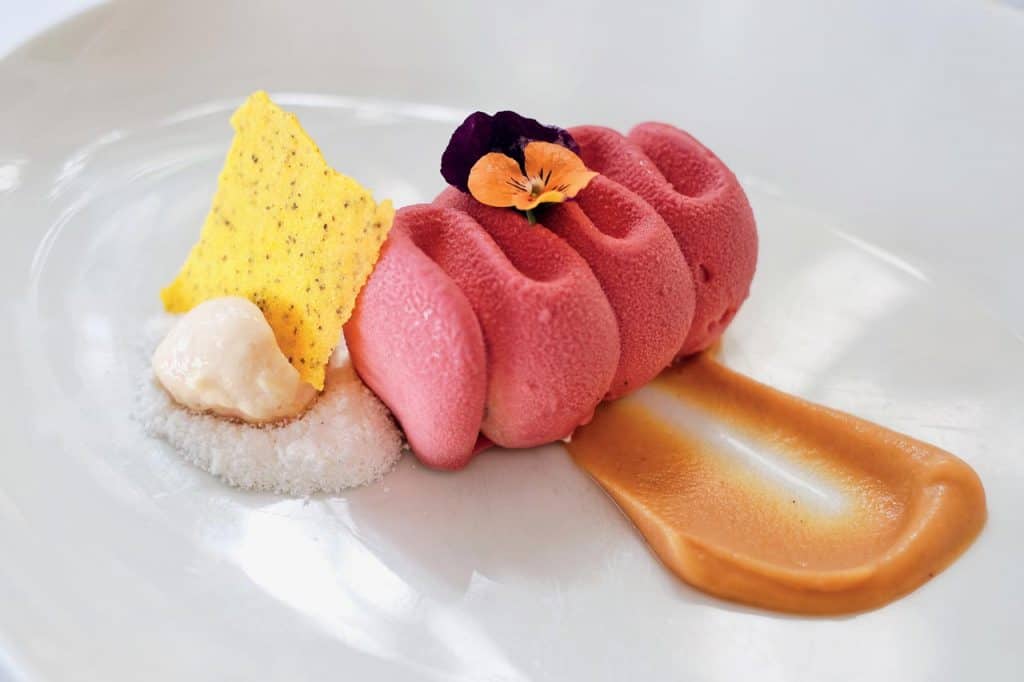 Dok sljedovi hrane pristižu za stol u elegantnoj harmoniji lupkanja valova u zidine mandrača, kucanje vinskih čaša i smijeh odzvanja ugodnom atmosferom restorana. Ovdje je gostoljubivost iskrena i sveprisutna.
Vinska lisa restorana u Voloskom zadovoljit će i najzahtjevnije
Za ljubitelje dobrih vina nema boljeg mjesta. Naime, vinska karta je više puta proglašavana najboljom i znalački je sačinjena paletom etabliranih vinskih imena ponajviše hrvatskih vinara, no i francuskih, talijanskih, njemačkih i slovenskih.
Opus šampanjaca je zavidan i kada vam kažemo da je Daniela bila dvostruka prvakinja Hrvatske na natjecanju sommeliera, te 2005. godine i najbolja sommelierka jugoistočne Europe, nema bojazni da i najzahtjevnije nepce neće iznenaditi savršeno sljubljenom čašom vina.
Jedinstvena povlastica gostima je i besplatno kušanje cijelog spektra probranih maslinovih ulja te moguće uparivanje s jelima, što nije uobičajeno u ostalim hrvatskim restoranima.
Radi se o fantastičnim maslinovim uljima iz Istre, ali i ostatka Hrvatske – od Belića, Ipše, Chiavalona, do Sušića, Rizmana, Monterosso i brojnih drugih renomiranih uljara. Odlazak u Plavi podrum gastronomski je doživljaj. Stari gosti se redovito vraćaju i restoran je učestalo dupkom ispunjen.
Njegovanjem tradicije i bogate gastronomske raznolikosti ovog podneblja, Plavi podrum je pronašao suvremenu recepturu za hvalevrijednu pažnju među renomiranim mediteranskim restoranima.
Fotografije Žiga Intihar i Dean Dubokovič