Egzotična Azija, smirena Švicarska, vibrantna Barcelona, čarobni Bali ili romantični Santorini. Na našoj listi našli su se luksuzni hoteli koji uz sjajnu uslugu imaju i spektakularne bazene s pogledom od 360 stupnjeva
137 PILLARS SUITES, Bangkok
Nadahnuti originalom 137 Pillars House Chiang Mai, arhitekti su osmislili luksuzni butik hotel koji se sastoji od 34 raskošna apartmana. Apartmani su smješteni na gornjim razinama zgrade suvremenog izgleda i imaju ekskluzivan pristup krovu i, sad već nadaleko poznatom, bazenu bez ruba s pogledom od 360 stupnjeva, Skybaru i kućicama za odmor, kao i privilegirani pristup Baan Borneo Club Loungeu na razini 26.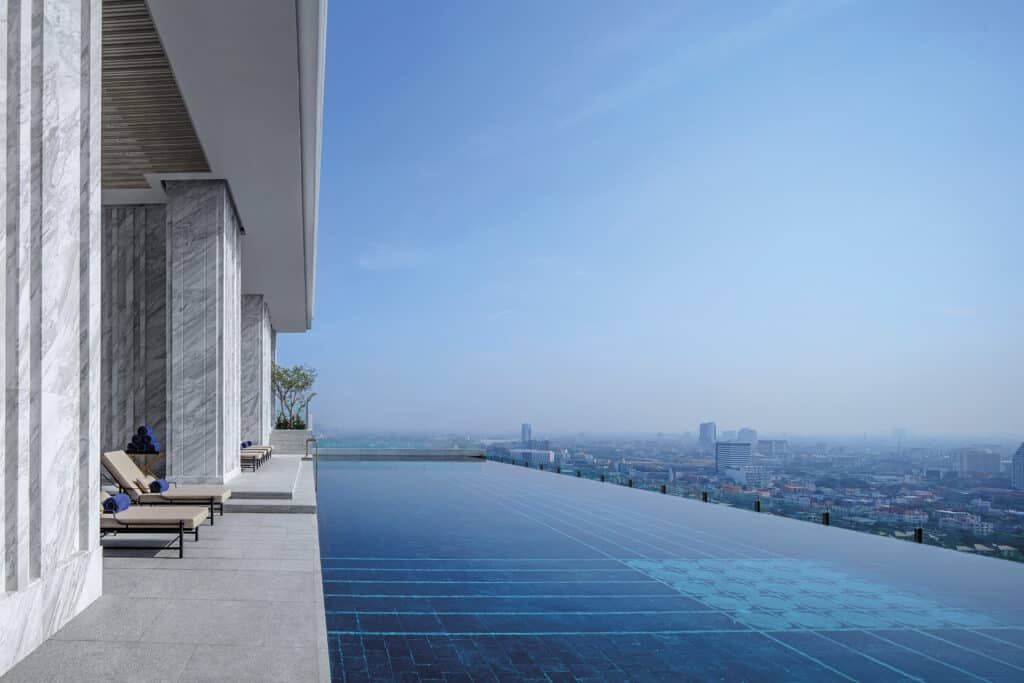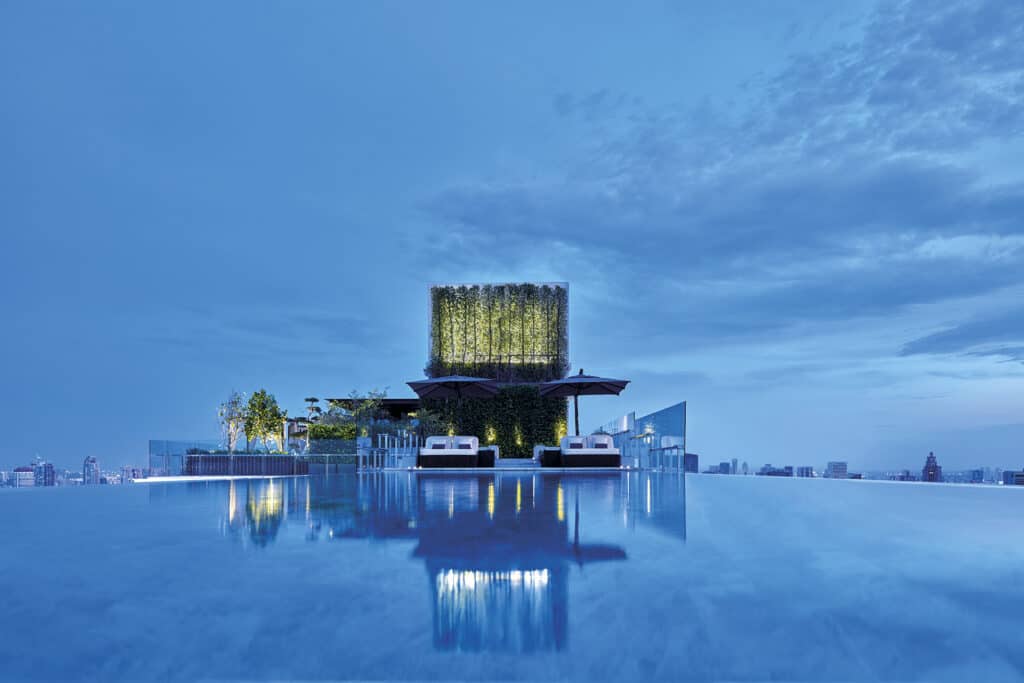 Popularni beskrajni bazen nadopunjava veliki jacuzzi koji se nalazi na razini 27, na kojoj se gosti mogu opustiti i uživati u spokoju nad Bangkokom, visoko iznad gradske vreve, sve to s čašom finog pića u ruci – uključujući i signature pića iz 137 Pillars Pool Bara.
MANDARIN ORIENTAL, Barcelona
Hotel Mandarin Oriental nalazi se na adresi Passeig de Gracia, u samom središtu trgovačkog i zabavnog srca Barcelone, i udaljen je svega nekoliko minuta hoda od mnogih glavnih turističkih atrakcija. Mandarin Oriental ima 120 soba i apartmana, redom uređenih u visoko stiliziranom, spektakularno kreativnom stilu u kojem će stručnjaci za interijere prepoznati rad međunarodno poznate španjolske dizajnerice Patricije Urquiole.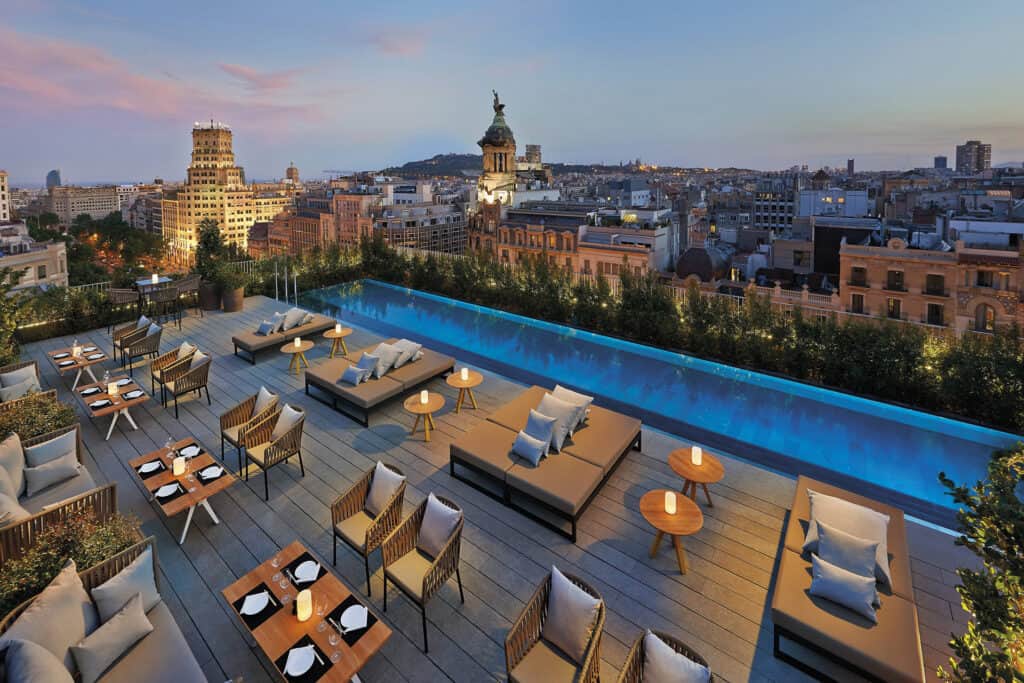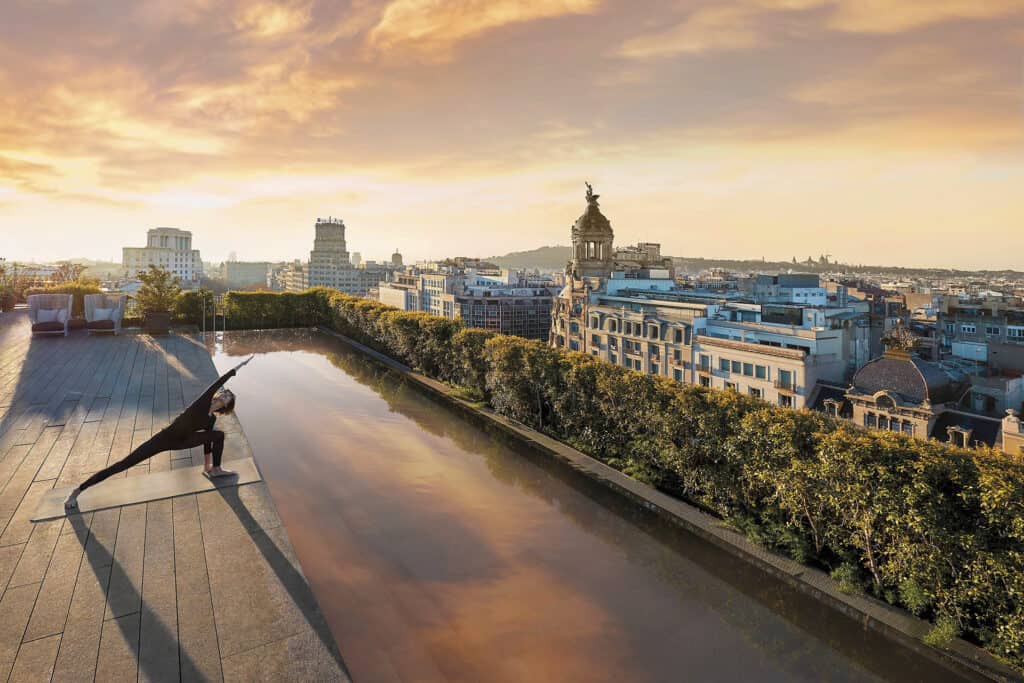 Gosti se mogu opustiti uz bazen na krovu Terrat i panoramski pogled na prepoznatljive obrise Barcelone. Smješten na 9. katu, bazen ima panoramski pogled od 360 stupnjeva, a uz bazen gosti mogu uživati u širokom izboru pića i ukusnom izboru delikatesa peruanske kuhinje.
HOTEL VILLA HONEGG, Ennetbürgen
Villa Honegg je jedinstven luksuzni objekt s pet zvjezdica, smješten u srcu Švicarske. Hotel posluje odavno – otvoren je 1905. godine, a temeljito je preuređen 2011. pa danas ima 23 sobe namještene prema najvišim standardima. Visoko iznad Lucernskog jezera, bazen na otvorenom nudi nevjerojatan panoramski pogled, a pored njega se nalazi i topla masažna kupelj u kojoj gosti mogu pronaći privatnost i mir u jedinstvenom okruženju.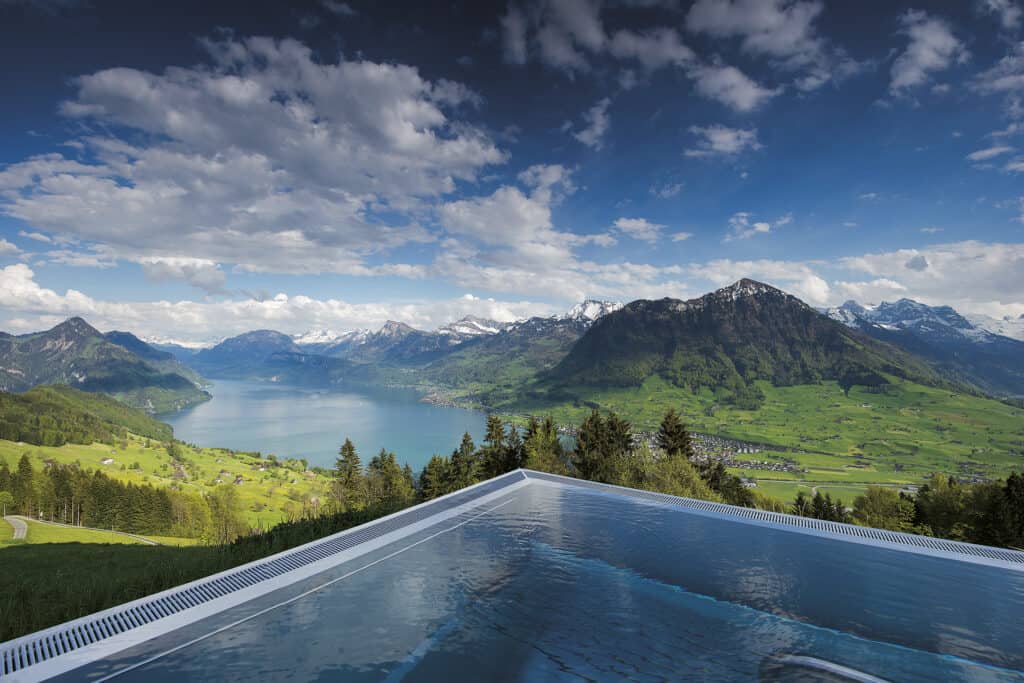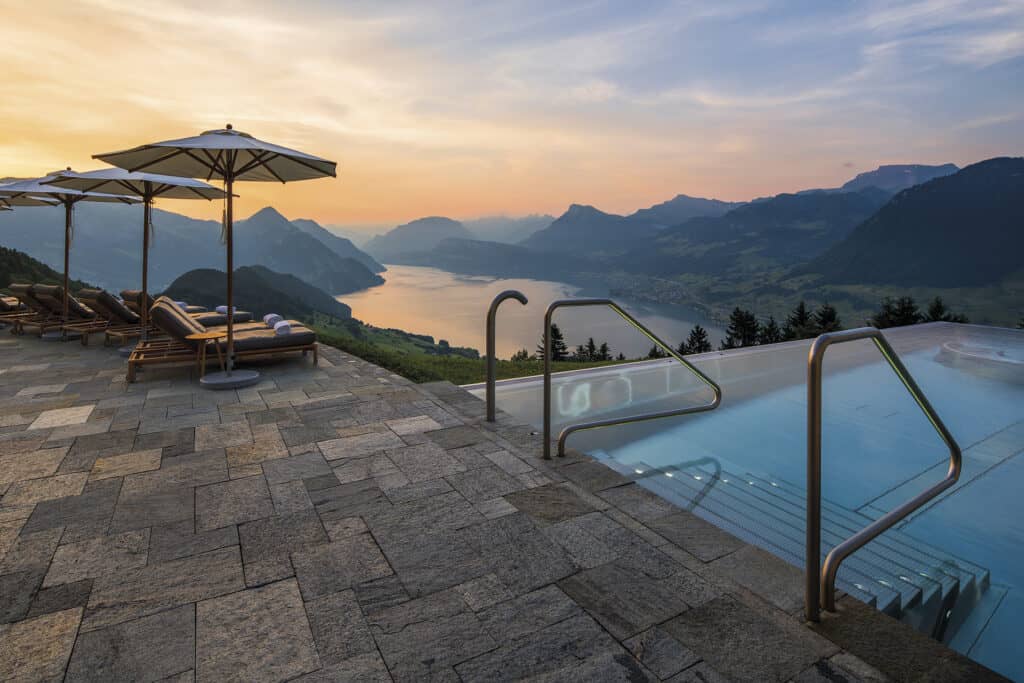 Uronjeni u toplu vodu – vanjski bazen je zagrijan na 34 °C – gosti mogu uživati u pogledu koji je tijekom cijele godine jednostavno fenomenalan, jer je Villa Honegg okružena planinama, jezerima i nadvijena nad dolinom u kojoj leži gradić skriven paperjastim oblacima.
HANGING GARDENS, Bali
Smještene duboko u srcu otoka bogova, 44 privatne vile odišu diskretnim luksuzom i savršeno skladno spajaju suvremeni i tradicionalni stil Balija: ukrase s potpisom, ručno izrađen namještaj, egzotične tkanine, otvorene prostore za blagovanje i spektakularne spavaće sobe. Izuzetno privlačni bazen ovog hotela je broj jedan na listi 40 jedinstvenih bazena širom svijeta po arhitekturi i dizajnu, a i bez sumnje jedan od najčešće fotografiranih bazena. Arhitekt, stručnjak za ovakve kreacije, stvorio je modernu ikonu, upečatljivu strukturu 'ovješenu' nad gustom prašumom i tako podario kupačima jedinstveni osjećaj lebdenja iznad krošnja drveća.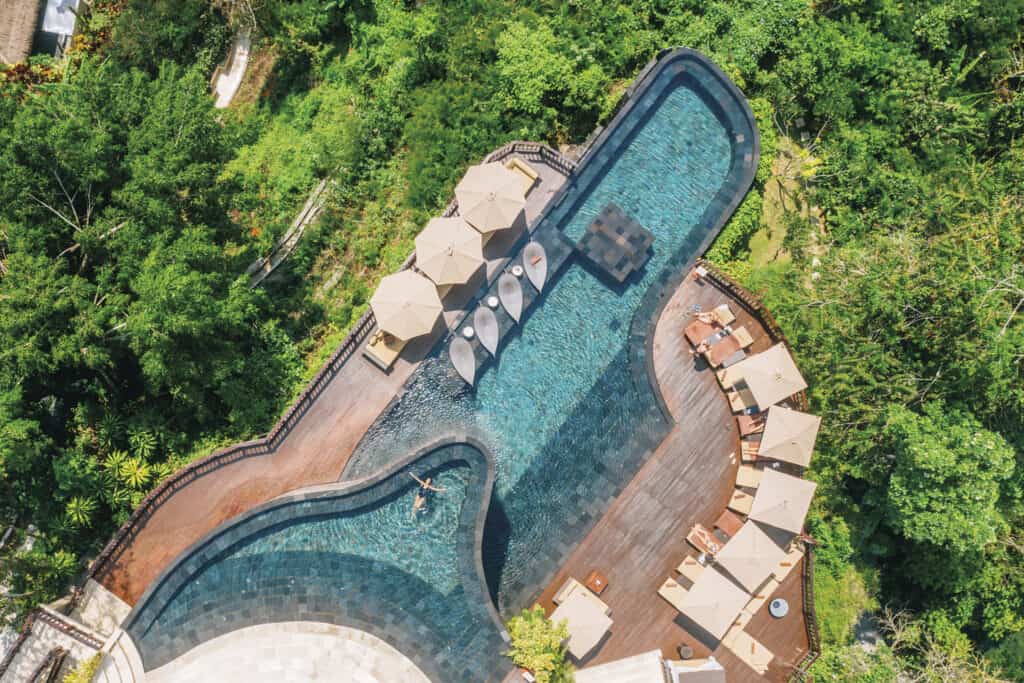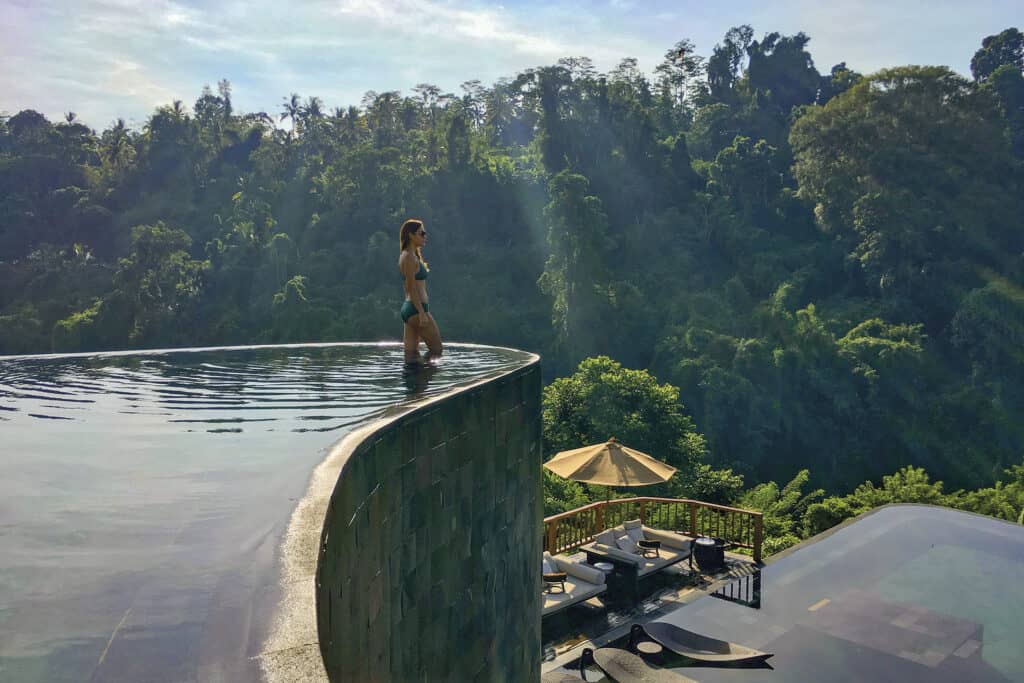 CANAVES OIA EPITOME, Santorini
Smješten iznad slikovitog ribarskog gradića Ammoudija, Canaves Oia Epitome je nadahnut tradicionalnom arhitekturom Kiklada, koja spaja prirodne materijale s modernim dizajnom i stilom. Jedini je hotel na otoku Santoriniju koji nudi pogled na more i zalazak sunca u privatnosti – i to vrijedi za sve 24 luksuzne vile.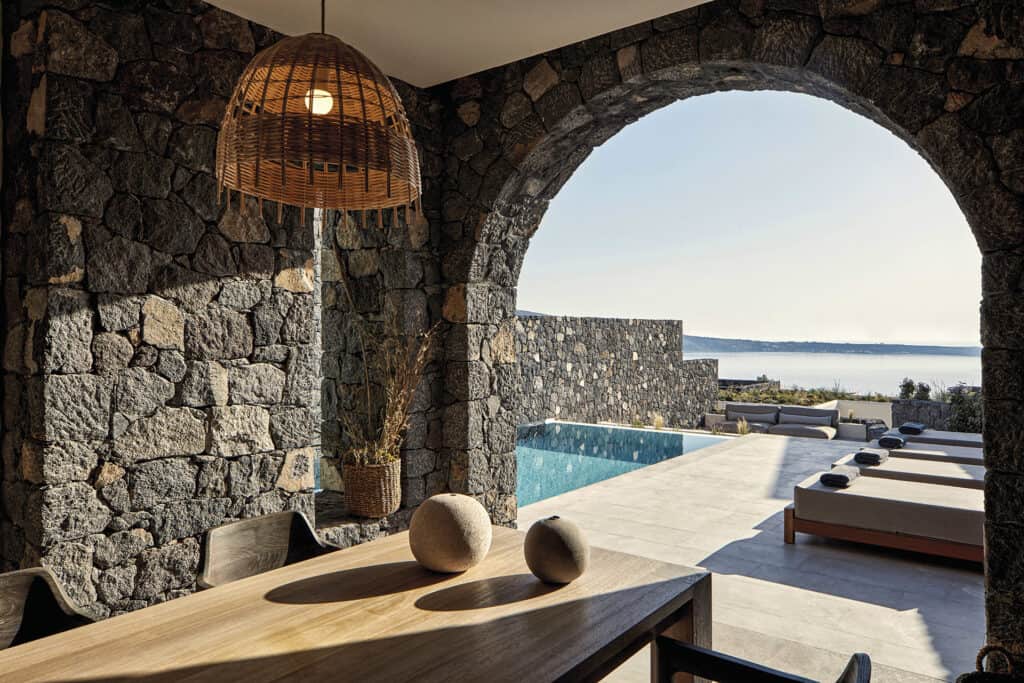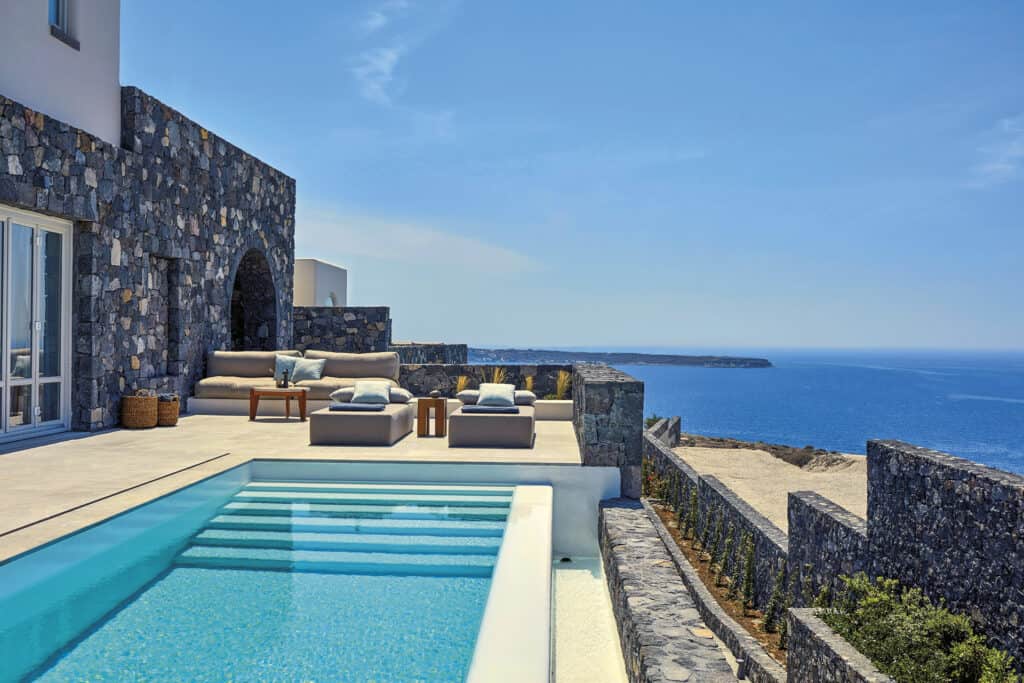 Ispunjeni prirodnom svjetlošću, apartmani i vile Canaves Oia Epitome maštovito zamagljuju granicu između tradicionalnoga i modernoga, između strukture i prostora, ekstravagancije i jednostavnosti. Gosti mogu uživati u povjetarcu, suncu i moru iz jedne od ležaljki na prostranoj privatnoj verandi uz grijani bazen.
Priredila Ivana Nedoklan
Fotografije 137 Pillars Suites, Mandarin Oriental Barcelona, Hotel Villa Honegg, Hanging Gardens of Bali & Canaves Oia