Beneteau First 36 nudi uravnotežen spoj udobnosti i performansa
Već 40 godina modeli Beneteauove serije First uspješno nude uravnotežen spoj udobnosti, performansa, praktičnosti, elegancije, visokotehnološke gradnje i prihvatljive cijene. First 36 sjajno nastavlja taj niz
Beneteau First 36 je model kojem je kuća zadala nezahvalan zadatak da premosti jaz između visoke tehnologije potrebne za regate i mainstream regatnog cruisera. To u praksi znači da čak i serijska verzija First 36 može poletjeti i postići glisiranje već pri umjerenom povjetarcu. Beneteau First 36 je savršeno građen za kraće krstarenje, ali je isto tako idealan i za sve popularnije adventure regate.
Vrlo visok koeficijent površine jedra/istisnine i uravnotežen nautički dizajn čine ga vrhunskim club-racerom, a usto je jednako zanimljiv i kao siguran i zabavan obiteljski cruiser ili uzbudljiv daysailer.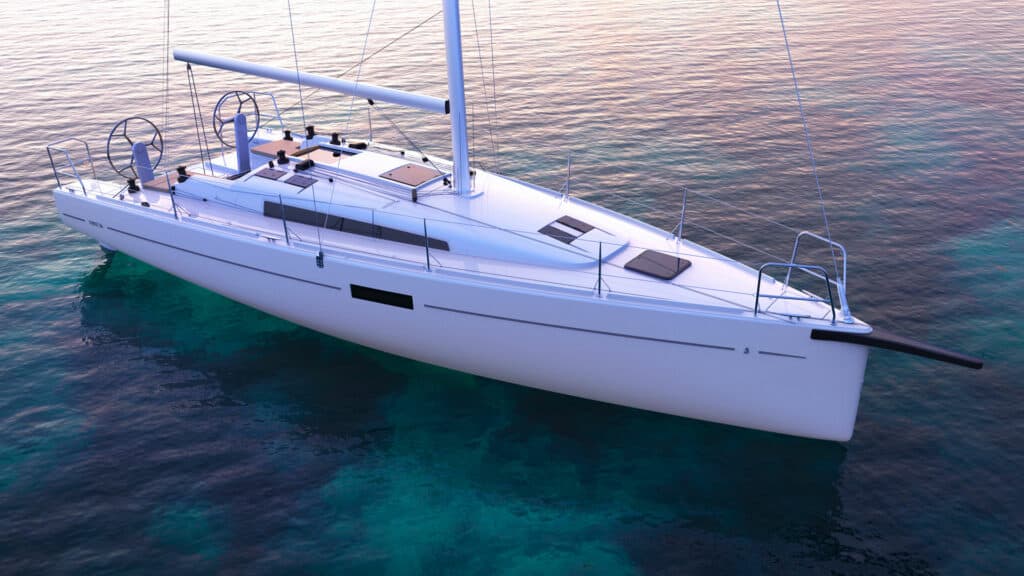 Detalji poput offshore poklopca na pramcu glavne palube ili pomičnih klupa u kokpitu pokazuju da kuća Beneteau smatra funkcionalnost važnijom od stila, a to je primjetno i u drugim elementima dizajna. Serijski aluminijski rig i kobilica od lijevanog željeza odabrani su kako bi brod bio dostupan cijenom, ali Sam Manuard je ulio svo svoje iskustvo u usavršavanje oblika i dizajna ova dva ključna sastojka za kvalitetno jedrenje.
U rasporedu prikladnom za regate, širok i moderan kokpit omogućuje različite položaje kormila i trima, bilo za jedrenje s manjim brojem članova posade ili s punom posadom. Pritom nema produljenja stola i klupa, pa je kokpit prazniji, idealan za manevre. Kada uklonite regatnu opremu i povedete obitelj na krstarenje ili jedrenje, klupe s jastucima u kokpitu povećavaju prostor za sjedenje, ali i prostor za pohranu i organizaciju užadi. Stol u kokpitu dovoljno je velik za šest osoba.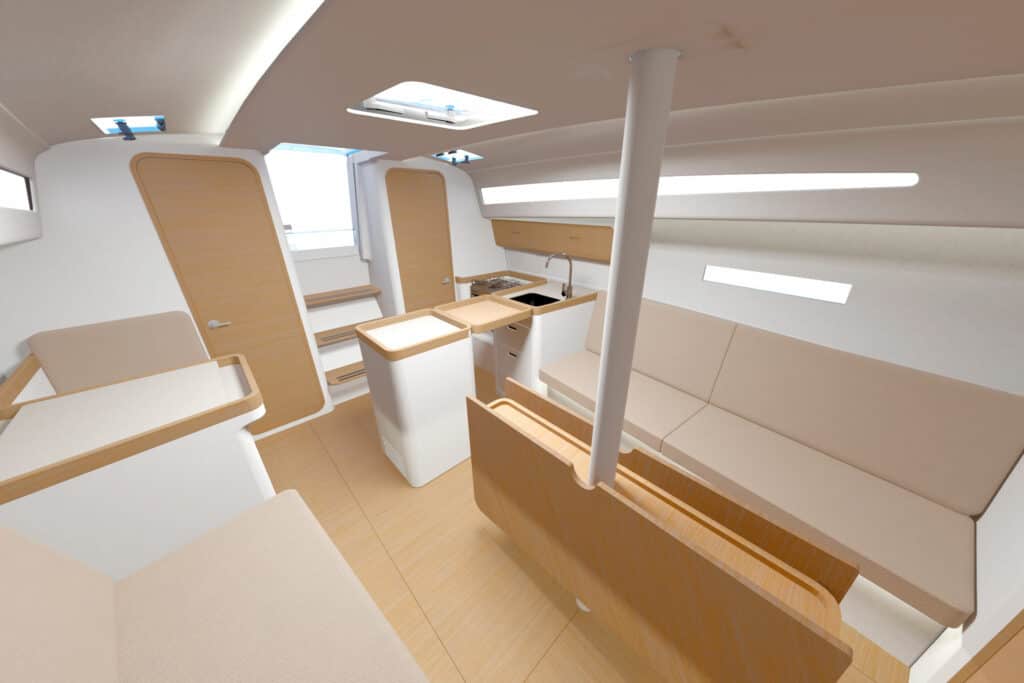 Nadalje, dizajnerski tim je osmislio ultra-laganu platformu za kupanje, kako bi jedriličarima omogućio lak pristup vodi bez utjecaja na performanse broda. Jednostavan, udoban i fleksibilan interijer modela First 36 osmišljen je na temeljnoj ideji funkcionalnosti i podijeljen na tri kabine. Njegova najistaknutija osobina je smještanje hladnjak (s odvojivom daskom za rezanje) u sredinu, što je omogućilo izvedbu najveće kuhinje u klasi.
Hodnik koji se otvara ili zatvara spuštanjem stola pomaže nautičarima da se sigurno kreću po salonu i nudi dodatni, vertikalni spremišni prostor. Tri kabine s lako dostupnim bračnim ležajevima i inovativnim kupaonicama točka su na 'i' u ovom svijetlom i prostranom interijeru.
Fotografije Beneteau