Poslušan na moru, spreman ubrzati i na najmanju komandu i brz u odgovoru na promjene položaja kormila, novi Sunseeker 76 nije samo brod za razonodu, nego i jahta kojom se upravlja s punim zadovoljstvom
Bijeli Sunseeker privezan uz lukobran izgledao je kao brod-duh u tmini, dok brodogradilišne hale za njim kao da su lebdjele, daleke i nestvarne. Na samoj jahti prozori kao da su bili zastrti papirom, ali je testna posada upalila svjetla, uključila grijanje i čekala nas s pripremljenim – zagrijanim – navigacijskim instrumentima. U programskom nizu brodogradilišta Sunseeker, novi model 76 zamjenjuje model 75, koji je, pak, naslijedio model 73. Za ovu su kuću sve to bili važni modeli, prodani svaki u više od stotinu primjeraka, ali je prinova ipak posve originalna, temeljito preoblikovanog nadgrađa, duljeg i šireg trupa i obogaćena mnogim poboljšanjima. Neka od njih, primjerice, veliki prozori koji daju snažnu dramsku notu glavnoj palubi i s njima usklađene mjestimično otvorene ograde radi što boljeg pogleda na more, jednostavno odražavaju promjene mode. Odgovor na nove zahtjeve tržišta je i impresivna oprema pramčane palube, kao i velik broj jastuka za sunčanje, sofa i stolova za uživanje u jelu i piću, prostranija i bolje opremljena kabina za posadu, kojoj se sad prilazi kroz strojarnicu, i ostakljen glavni prolaz – ravan i s pravokutnim skretanjem, za razliku od ne osobito praktičnog polukružnog na ranijim modelima.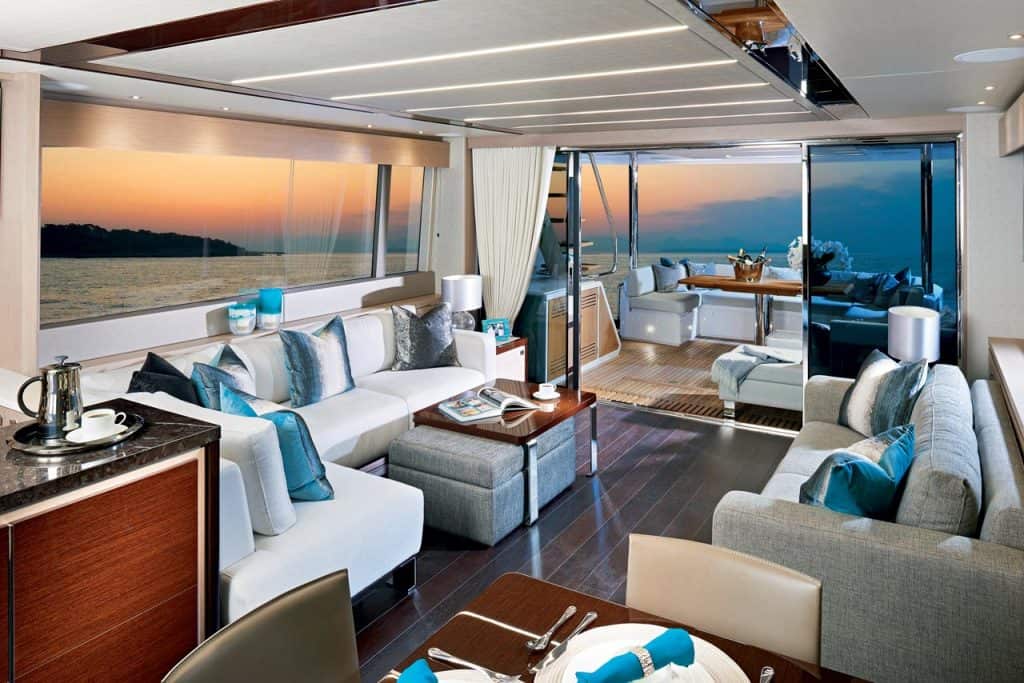 Dizajneri kuće temeljito su preuredili i stakleni krov nad prednjim dijelom upravljačkog mjesta, koji se sad može podići ili zastrti sjenilom – rekli bismo da je to jedinstvena značajka na jednom modelu ove kategorije, s gornjom palubom. Plod posebnog nadahnuća je i cjevasto spremište za pramčane tende, dok je na donjoj palubi Sunseeker 76 uređen gotovo identično kao i njegovi prethodnici, s posteljama primjerene veličine i stojećom visinom od 1,98 m. Vlasnička kabina, položena sredinom trupa, prekrasan je prostor s golemim oknima na bokovima, garderobom visokom koliko i sama kabina i privatnom kupaonicom s dva umivaonika. VIP kabina površinom je nešto manja, ali također vrlo udobna. U gostinskoj kabini dva se odvojena kreveta električnim sustavom mogu spojiti u bračni krevet širine 1,42 metra. Vlasnicima modela 76 na raspolaganju stoje mnoge mogućnosti individualizacije, od izbora materijala – mramora, drva (na jahti koju smo testirali bili su korišteni antikni granit i wenge, a pod je bio od bijeljene hrastovine), boja i materijala za obloge i podove. Nude se tri izvedbe kuhinje: otvorena, na glavnoj palubi, zatvorena (nalik na ormar) i čak potpuno odvojena, u posebnoj prostoriji umjesto gostinske kabine na lijevoj strani, na čiji je račun povećana i blagovaonica s velikim okruglim stolom. Na krmenoj strani gornje palube može se ugraditi vrtložna kada s toplom vodom ili dizalica sa spremišnim mjestom za pomoćnu brodicu. Izvorno je kao tender predviđena gumena brodica Williams 385.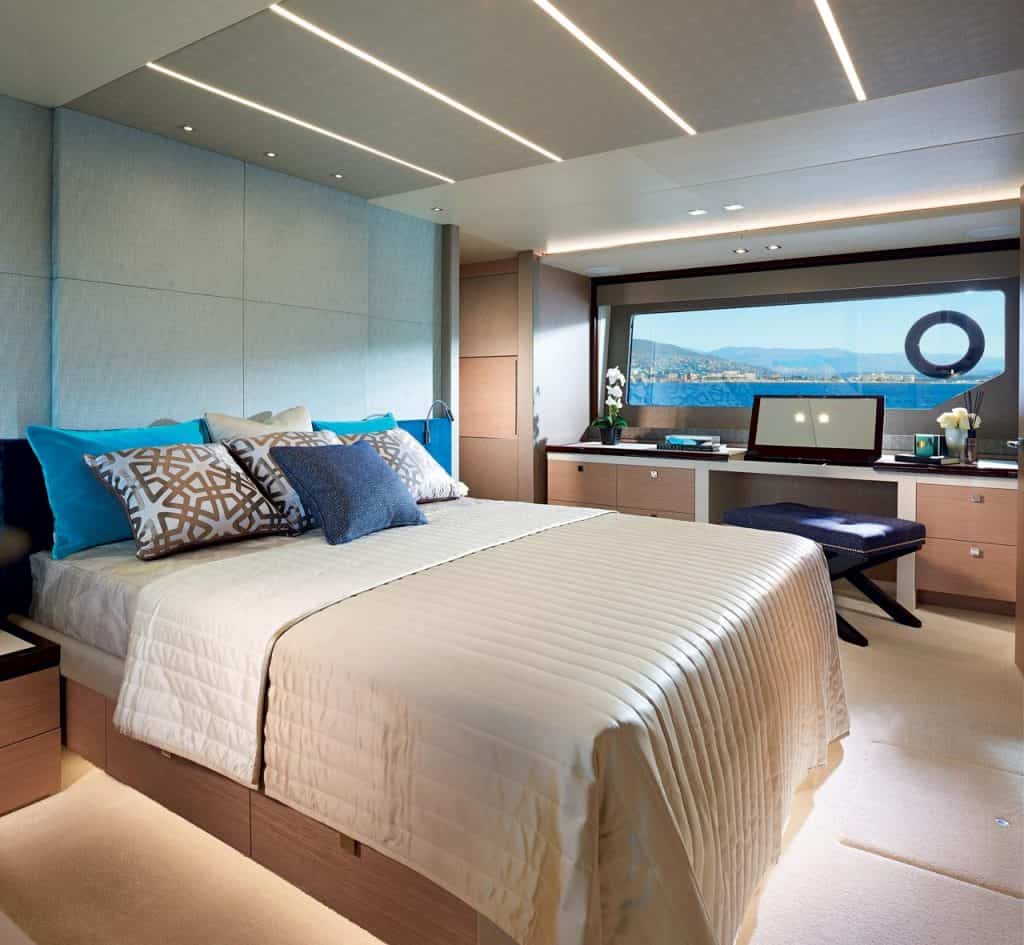 Sunseeker predviđa opremanje modela 76 parom motora MAN 12V snage 1.400 KS, ali je moguća ugradnja i snažnijih motora, do 1.550 KS. Strojarnici se pristupa kroz nepropusna vrata iz kabine za posadu – opremljene dvama ležajevima i sofom, s privatnom kupaonicom. Primjerak koji smo testirali imao je ugrađene i stabilizacijske peraje Side-Power futurističkog izgleda, koje omogućuju potpuno mirovanje ('zero-speed') broda. Na mirnom moru taj se sustav testira vožnjom u krugu i prelaženjem preko vlastitih valova – pokušali smo, i jahta ih je presjekla bez imalo valjanja. Ne bismo savjetovali aktivaciju tih peraja tijekom plovidbe mirnim morem, osobito brzinom većom od 15 čvorova, mi ih nismo isključili, pa smo osjetili i početni otpor naglom skretanju pri većoj brzini, što nas je nasmijalo. Kad se peraje uvuku, Sunseeker potvrđuje reputaciju poslušnog broda. Par MAN-ovih strojeva V12 od 1.400 KS svakako daje dovoljno potiska, ali smo se uvjerili i da je 1.550 KS na testiranoj jahti savršen omjer težine i snage: postignuta brzina od 33 čvora na plimnom valu u blizini Old Harryja bila je savršena za krstarenje podno znamenitih krednih stijena Dorseta, jedne od najspektakularnijih obala na svijetu. Kad se sunce probije ispod oblaka i rastjera maglu, njihova bjelina nad tirkiznim morem svakako je prizor s kakvim se malo drugih može mjeriti. Ako niste na novom Sunseekeru.
Fotografije Sunseeker