Osim što Dufour bilježi izvrsne rezultate u prodaji čarter jedrilica u cijelom svijetu, pa tako i u Hrvatskoj, za što je Krasić u tom brodogradilištu zadužen, Dufour priprema i nove projekte koji su veliki iskorak za brodogradilište
Nikola Krasić je prodajni čarter menadžer za Dufour jedrilice na globalnoj razini. Njegov izbor na tu zahtjevnu poziciji otprije tri godine nije slučajan s obzirom na odlično poznavanje čarter biznisa kod nas, a nije tajna da je hrvatsko tržište najveće na svijetu po broju čarter jedrilica. Stoga smo Nikolu pitali koliki dio čarter tržišta u samom Dufouru zauzima Hrvatska: 'Na Hrvatsku nam otpada oko 50% prodaje svih čarter jedrilica u svijetu. Sljedeće tržište su nam Karibi, pa Grčka i Španjolska. Na svim tržištima nam dobro idu jedrilice s četiri kabine, a na Karibima je primjetna tendencija malo većih brodova.'
Dufoura ima sve više u čarter flotama na Jadranu, možeš li nam konkretnije opisati vaše prodajne rezultate u Hrvatskoj?
Jedan od razloga sve veće prisutnosti Dufoura u čarter flotama jest što smo prije nekoliko godina odlučili direktno poslovati s čarter tvrtkama, što je uvelike pojednostavilo proces prodaje. Konkretno, Dufour je ove godine u segmentu jedrilica između 10 i 15 metara najprodavaniji brend na Jadranu. Ne bih govorio o konkretnim brojkama, koje su naša poslovna tajna, ali se danas lako može saznati koliko ima naših novih jedrilica, a to ćete lako uočiti i u marinama.
Zašto je Dufour tako dobro prihvaćen brend?
Smatram da današnji uspjeh brenda dijelom možemo zahvaliti našem modelu Gib Sea koji mnogi čarteraši pamte kao idealno čarter plovilo. Dufour je danas kombinacija plovila koje omogućava odlične performanse u jedrenju, dok istovremeno pruža maksimalan komfor, pa je vrlo poželjan u čarteru. Također, ne smijemo zaboraviti da je postprodajna vrijednost plovila Dufour nakon isteka financiranja (pet ili sedam godina) nešto veća u odnosu na konkurenciju, što itekako igra ulogu u čarter kalkulaciji.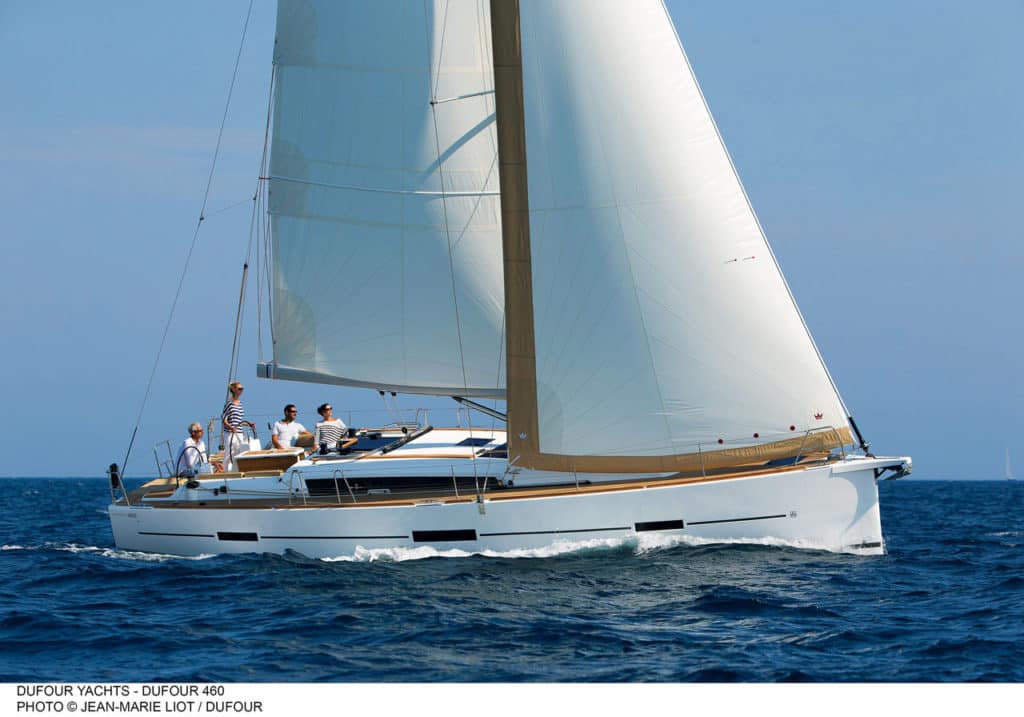 Što klijenti/čarteraši cijene i traže od Dufoura?
Dufour je u proteklih nekoliko godina prilagodio svoje modele čarter tržištu, pogotovo u predjelu kokpita dodavanjem hladnjaka i roštilja, vodeći se filozofijom kako klijenti kada su u čarteru većinu vremena provode vani. Također, svake godine imamo sastanke s ključnim klijentima i čarterašima od kojih primamo feedback, te implementiramo ideje kako bismo naše modele učinili još boljima. Dvosmjerna komunikacija na relaciji klijent/brodogradilište je itekako cijenjena, a prodajni rezultati nam dokazuju da je to ispravan put.
Koji su vam modeli najtraženiji?
Najtraženiji modeli su oni u konfiguraciji s tri kabine i dva WC-a, to su Dufour 382 i Dufour 412, te Dufour 460, koji je apsolutni hit zato što je to jedini model koji u toj veličini ima konfiguraciju s četiri kabine i četiri WC-a. U zadnje vrijeme primjećujem i porast popularnosti jednog od naših većih modela – Dufour 56 Exclusive, koji bilježi odlične prodajne rezultate.
Kakva je budućnost brenda koji danas očito odlično posluje?
Ove smo godine zakoračili i u segment jedrilica preko 60 stopa s našim modelom 63 Exclusive koji je za sada odlično prihvaćen. Veliki razvojni korak za brodogradilište je proizvodnja katamarana (Dufour Catamaran) koji će također biti napravljen u suradnji s dizajn studijom Umberta Felcija. Već sada imamo naručen određen broj katamarana za sezonu 2018., bez da smo službeno predstavili model, što ukazuje na veliko povjerenje koje uživamo kod naših klijenata. Kako je nautička industrija uvelike postala slična automobilskoj, plan nam je nastaviti svake godine osvježavati postojeće modele te uvoditi nove.
Kakva su tvoje iskustva s 'ostakom svijeta'?
Od ostalih tržišta za koja sam zadužen svakako bih istaknuo Grčku i Španjolsku, gdje nam rezultati u čarteru kontinuirano rastu. I u Austriji imamo vrlo velik broj plovila prodanih u privatnom sektoru, ali i kroz čarter menadžment programe. Jedan od kurioziteta je da bilježimo odlične rezultate u Mađarskoj, gdje na Balatonu, jezeru koje je dugo svega 70-ak kilometara, imamo zavidan broj prodanih plovila isključivo u privatnom sektoru. Rezultat je to odlične strategije te konstantnog ulaganja u brend.