Audi Tour e-xperience povezuje hrvatsku eno-gastro ponudu s vrhunskim elektrificiranim automobilima. Istra, magična zemlja u kojoj se spaja razvedena obala i zelena unutrašnjost, kulturno-povijesna baština i održivi turizam, panoramske ceste i ekološka proizvodnja; uistinu je najplodnije tlo za podizanje svijesti o važnosti zaštite prirode, unapređenju života lokalnih zajednica, očuvanju prirodnih i kulturnih resursa. Prirodu je nemoguće nadmašiti te samo prirodni sastojci, proizvedeni na održiv način i bez korištenja štetnih kemikalija mogu u konačnici postati vrhunski proizvod.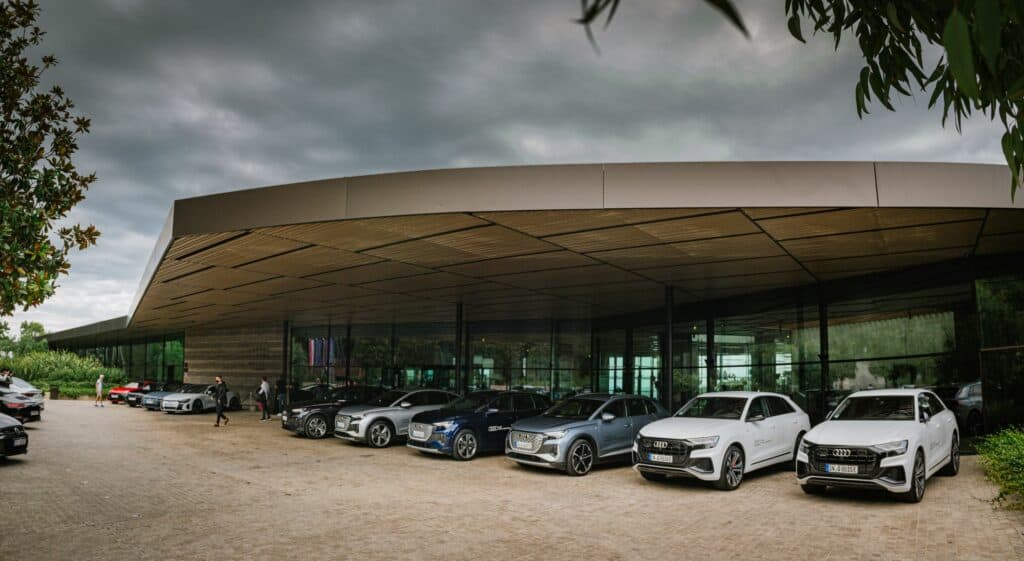 Jednako tako i Audi ima vrhunske sastojke koje iskustvom i strašću pretače u izvrsne automobile. Bez obzira radi li se o automobilima s klasičnim ili električnim pogonom, Audi uvijek postavlja standarde na području tehnologije i dizajna. Nagrađivani motori, mjenjači ili sustavi pogona, kad se radi o klasičnim automobilima, odnosno baterije, elektromotori te sustavi za upravljanje energijom kad je riječ o električnim automobilima.
Najbolji primjer za to je Audi e-tron GT quattro koji je jedan od najboljih električnih automobila koji postoje na tržištu i to ne samo po ultimativnim performansama budući mu do 100 km/h treba samo 4,1 s, a u RS izvedbi 3,3 s. Za pogon se koriste dva sinkrona elektromotora s trajnim magnetima, jedan na prednjoj, a drugi na stražnjoj osovini.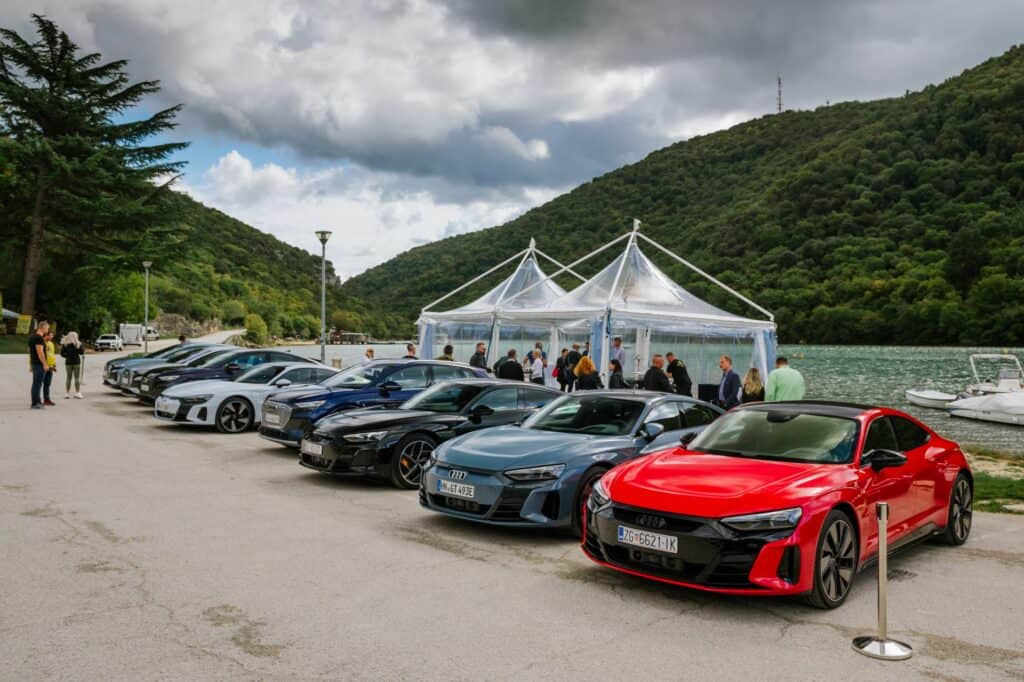 Prednji motor ima najveću snagu od 175 kW (238 KS), a stražnji 320 kW (435 KS) pri čemu oba motora imaju značajnu rezervu snagu zbog čega je zbroj pojedinačnih snaga veći od nominalne ukupne snage od 350 kW (476 KS), dok je ukupni okretni moment 630 Nm. Slično je i kod RS-a čiji su motori snage 175 kW (238 KS) i 335 kW (456 KS), odnosno ukupno 440 kW (598 KS) te čak 830 Nm okretnog momenta.
Pritom legendarni quattro sustav pogona na sve kotače upravlja raspodjelom momenta obaju motora te sinkronizira njihovo sudjelovanje u pogonu. Unatoč golemoj snazi potrošnja je 19 kWh/100 km što omogućuje doseg od 488 km po WLTP ciklusu, a istovremeno je e-tron GT quattro na punionici munjevito brz kao i na cesti. Baterija kapaciteta 84 kWh neto (93 kWh bruto) može primiti energiju potrebnu za 100 km vožnje za samo 5 minuta, dok punjenja od 5 do 80 posto razine napunjenosti traje traje 23 minute.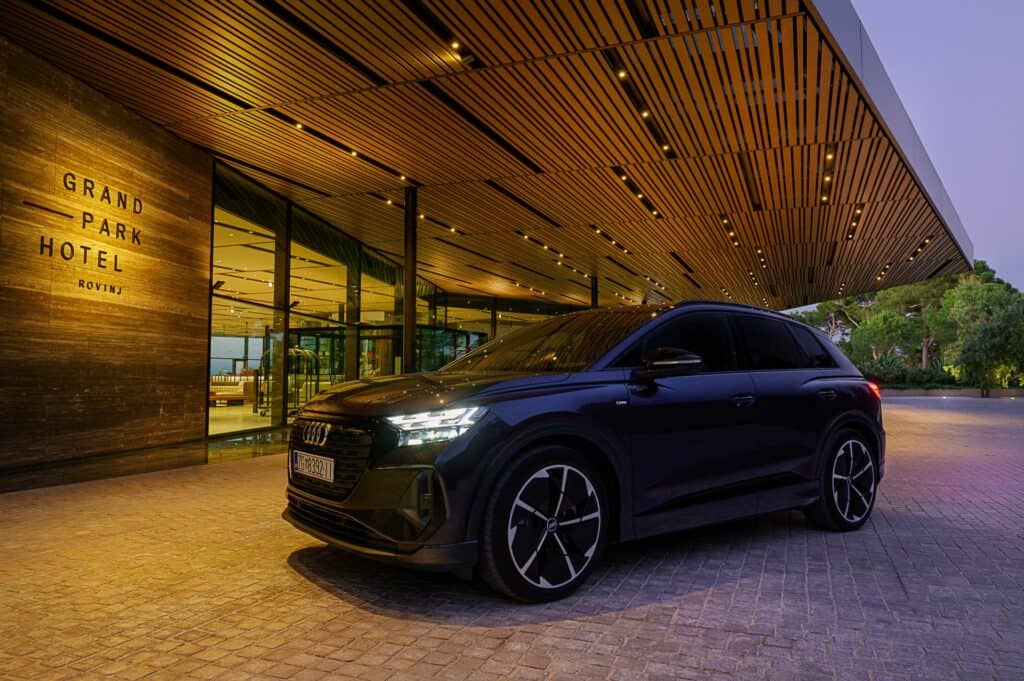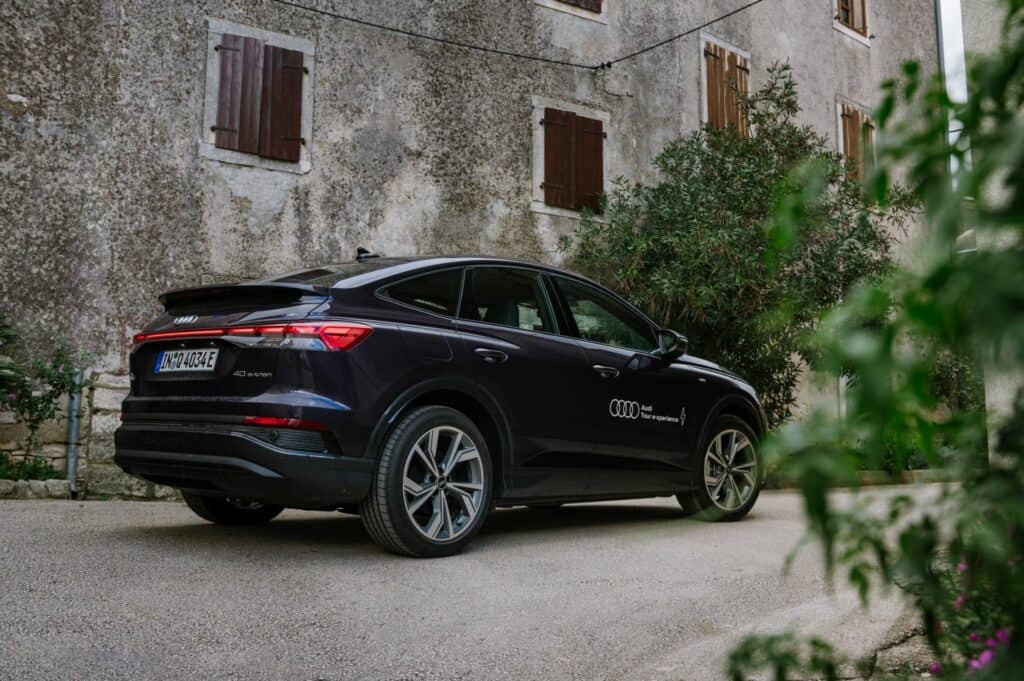 Prvi potpuno električni model marke s četiri prstena bio je SUV. Audi e-tron je 2017. otvorio novo poglavlje u povijesti tvrtke iz Ingolstadta te istovremeno postavio standarde po pitanju performansi, dosega, odnosno brzine punjenja. Q4 e-tron i Q4 e-tron Sportback prvi su kompaktni SUV modeli u Audijevoj ponudi, a nakon premijere u travnju, Audi Tour e-xperience je bila prva prilika za vožnju Audija Q4 e-tron, te hrvatska premijera Q4 Sportback e-tron modela.
Električni pogon omogućio je veliki međuosovinski razmak i male prevjese što kombinaciji s velikim kotačima rezultira snažnim i elegantnim nastupom, što pogotovo vrijedi za Q4 e-tron Sportback s coupévskom linijom krova. Iako su s duljinom od 459 cm relativno kompaktni, zahvaljujući električnom pogonu prostor u unutrašnjosti usporediv je sa značajno većim SUV modelima s klasičnom pogonom.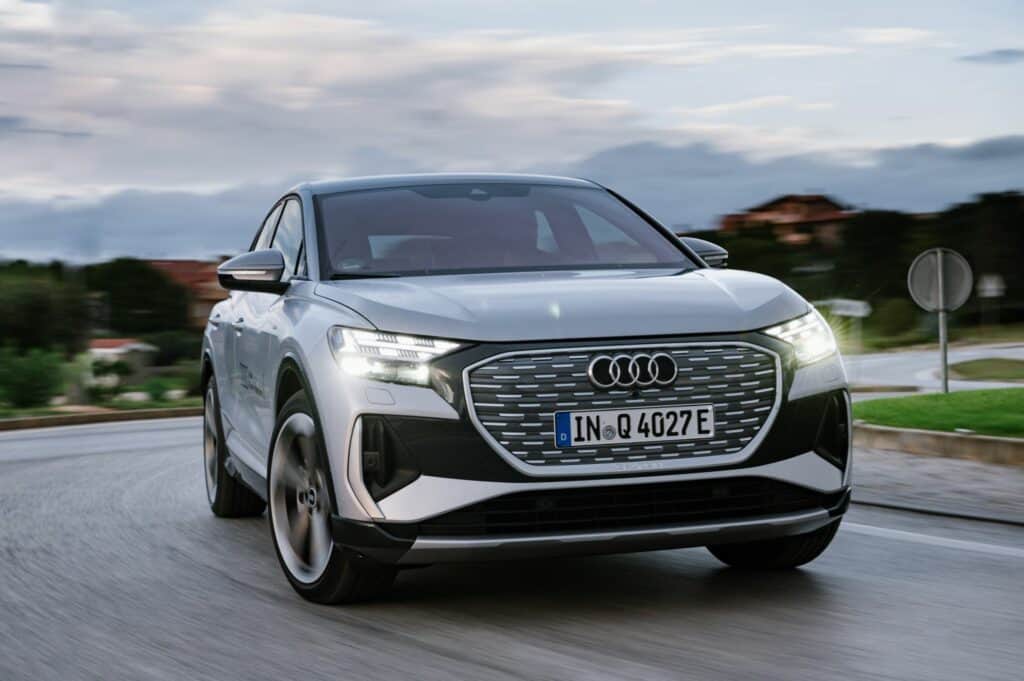 Audi je prilikom konfiguracije pogonskog sustava uzeo u obzir različite skupine korisnika te postoje izvedbe za one koji će Q4 e-tron modele koristiti većinom u gradu, ali i za vozače kojima trebaju za dulja putovanja pa se nude dvije veličine baterije te tri mogućnosti pogona. Kompaktna baterija za modele Q4 35 e-tron kapaciteta je 52 kWh (55 kWh bruto), dok modeli Q4 40 e-tron i Q4 50 e-tron imaju bateriju kapaciteta 77 kWh (82 kWh bruto).
Ovisno o veličini baterija i izvedbi pogona doseg s jednim punjenjem može biti do 520 km mjereno po WLTP ciklusu. Kompaktna baterije ima snagu punjenja od 7,4 kW pri AC punjenju, dok je najveća snaga punjenja na istosmjernom DC punjenju 100 kW. Velika baterija na AC punjenju ima 11 kW, a na DC 125 kW. S najvećom snagom punjenja moguće je napuniti količinu energije dostatnu za 130 km za samo 10 minuta.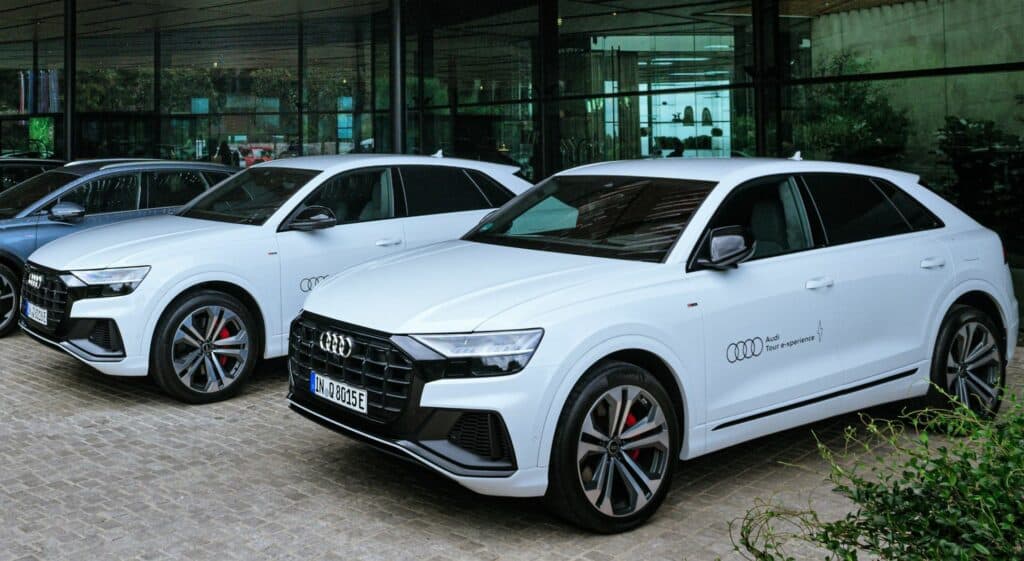 Iako nije potpuno električan Audi Q8 TFSI e s plug-in hibridnim pogonom može prevesti do 45 km, odnosno većinu dnevnih gradskih potreba, samo s električnim pogonom. Na duljim putovanjima kombinacija snažnog 3.0 V6 motora snage 250 kW (340 KS) i elektromotora snage 100 kW, omogućuje iznimno malu potrošnju benzina (2,7 – 2,8 l/100 km) bez žrtvovanja performansi.
Upravo, suprotno, zajedničkim radom obaju motora sistemska snaga se diže na 340 kW (KS), dok je ukupni okretni moment golemih 700 Nm što SUV respektabilnih dimenzija i mase ubrza do 100 km/h za samo 5,4 sekunde. Audi ima najširu paletu plug-in hibridnih pogona na tržištu, kombinacija naprednih TFSI motora i električnog pogona predstavlja najbolje od oba svijeta.
A svijet treba usmjeriti u promjene. Mijenjanje naših navika, ključno je za bolju budućnost, a kada se sve male promjene zbroje, one uistinu mogu značiti veliku promjenu i održivu budućnost.
Fotografije Audi Hrvatska