Dizajneri studija Harrison Eidsgaard dizajnirali su explorer koji spaja visoku funkcionalnost i lakoću korištenja s otmjenom unutrašnjošću i jedinstvenim dizajnom interijera
Jahta kategorije explorer, duljine 86 metara nastala je u premijernoj suradnji brodogradilišta CRN i studija Harrison Eidsgaard, a kako je došlo do te suradnje porazgovarali smo s Benom Harrisonom. 'Harrison Eidsgaard prvi put surađuje s kućom CRN, spajajući najbolje u dizajnu jahta s vrhunskim tehničkim znanjima i zanatskim umijećima toga svjetski poznatog brodogradilišta. Blisko surađujemo od samog začetka projekta, otkrivajući krajnje uzbudljivo djelovanje fleksibilnosti i posvećenosti u stvaranju zaista jedinstvene jahte po narudžbi budućeg vlasnika.'
Naziv explorer u općoj je uporabi. Po čemu se ova jahta svrstava u tu kategoriju (djeluje nam vrlo moderno)?
Predstavnik naručitelja u nekoliko nam je riječi opisao plovilo koje na Sredozemlju neće izgledati kao strano tijelo, koje će se pokazati izvrsnim u višim geografskim širinama i moći će poslužiti ozbiljnim ekspedicijama i, u isti mah, pružiti najvišu razinu udobnosti i luksuza svima na palubi. Od početka rada, vidjeli smo nekoliko novih explorera kako klize s navoza, ali nijedan nije bio usavršen do profinjene sofisticiranosti kakvu smo htjeli. U tom je smislu Harrison Eidsgaard/CRN 86m upravo ono što je klijent poželio pri prvom kontaktu.
S kakvim ste se izazovima susreli smišljajući koncept? Zašto ga je naručitelj prihvatio?
Izazovi se javljaju kada funkcija nadilazi zahtijevanu formu, pa ih dizajner treba skladno pomiriti. Tako je od početka bilo predviđeno da jahta može ponijeti dvije pomoćne brodice duljine 40 stopa i regatnu jedrilicu, te još jedan tender s kabinom ili malu podmornicu. Da ne bismo ograničili te opcije, predvidjeli smo brod s raskošno oblikovanim pramčanim dijelom opremljenim dizalicom za brzo spuštanje na more i dizanje tih plovila, koja ne narušava oštre linije trupa.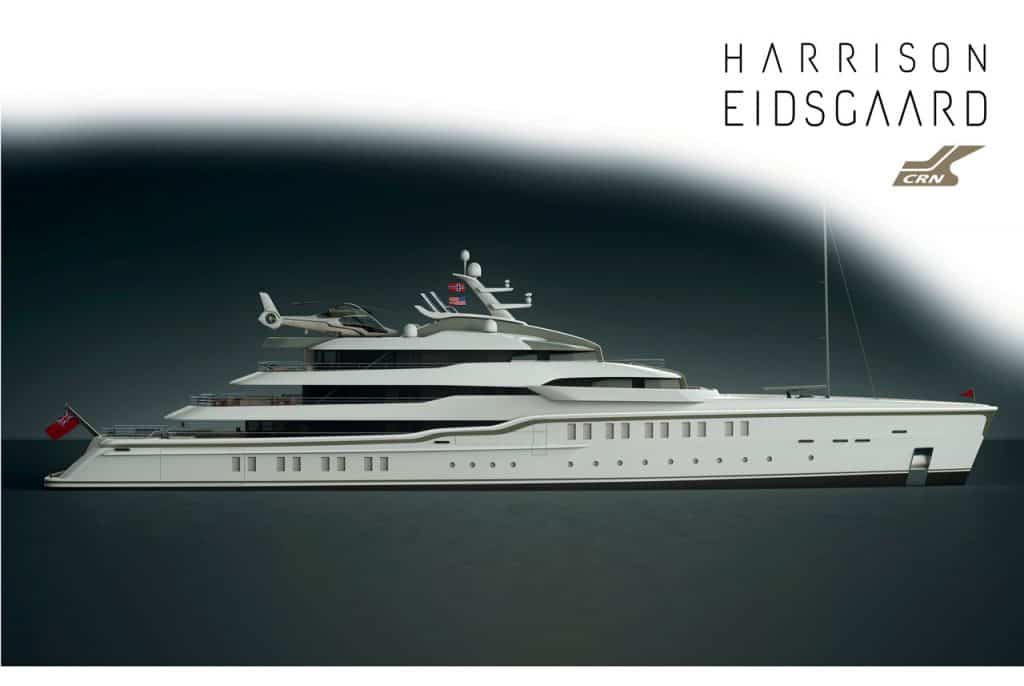 Skijanje s pomoću helikoptera, oprema za ronjenje, vožnja quadovima…
Osim što smo vodili računa o operativnoj fleksibilnosti, željeli smo i da jahta ponese što više tih igračaka, dobrodošlih na svakom krstarenju ili prijelazu velikih mora.
Kakvim ste se smjernicama vodili u dizajnu interijera? Hoće li u njegovu izradu biti uključeni talijanski proizvođači?
Ukus naručitelja, dakako, izrazito je osobna kategorija, a dok se nastojimo potruditi da za svakog od njih stvorimo jedinstveno unutarnje uređenje, kad bih bio u prilici oblikovati ga za sebe, bila bi to suvremena sofisticirana interpretacija 'stila plaže'. Dakle, da omogućuje savršeno opuštanje uz visoku eleganciju, jer je plovidba u prvom redu užitak u ambijentu oko vas… jahta je polazna osnova za istraživanje stalno promjenjiva okoliša u kojem se nalazi.
Što biste, kao dizajner, izdvojili u ovom projektu?
Vjerujem da su to unutarnji bazen i spa područje na donjoj palubi, odvojeni od ostatka broda nepropusnim staklom. Zamislite samo: uživate u spa tretmanu u toplom ambijentu pod polarnim svjetlom i s pogledom na arktički krajolik!
'CRN je pionir u dizajnu i gradnji jahta kategorije explorer – prvi smo ih ponudili međunarodnom tržištu plovila za razonodu, projektom F100 iz 1982. godine, nastalim po nacrtima Gerharda Gilgenasta. Sa studiom Harrison Eisdgaard u neku se ruku vraćamo vrijednostima kao što su svestrana upotrebljivost, funkcionalnost i elegancija – onima koje su nas dovele do statusa što ga danas uživamo. Zaista nas uzbuđuje ova nova suradnja, koja je urodila vrlo osebujnim konceptom', na pitanje koje detalje ovog projekta smatra važnim za budućnost kuće i zašto, odgovorio je Stefano de Vivo, komercijalni direktor i član izvršnog odbora kuće CRN.
Fotografije CRN & Harrison Eisdgaard