Nova talijanska jahta, u kojoj se pametan i elegantan dizajn isprepleće s funkcionalnošću, ima sve odlike budućeg klasika
Klasične linije eksterijera Monte Carlo Yachts 66 nisu odraz pasatizma autorskog dvojca Nuvolari Lenard, već pokazatelj kako su ispred brzine stavljene maritimne sposobnosti, što u ovom slučaju nimalo ne umanjuje ljepotu vanjštine. Prepoznatljivi kružni prozori, nešto zaobljenije linije u odnosu na prijašnji model MCY 65 i karbonski hard top koji kao da lebdi na nadgrađu, temelji su ovog, po svemu sudeći, budućeg klasika. Za taj status potrebno je mnogo kvaliteta, a MCY 66 ih ima sve. Prije svega, to je pristup klijentima, koji je jednak prema vlasnicima od najveće 105-ice do ove najmanje jahte. To se odmah vidi u pomno osmišljenom interijeru u kojem forma služi funkcionalnosti i obrnuto, ujedno pružajući u svakom kutku maksimalan komfor. Obilje svjetla s dvije velike staklene stijenke na bokovima, pažljivo birani prirodni materijali, poput pravog drva, talijanskog mramora i kože, kupci osobito cijene i zbog toga postaju dio sve veće MCY obitelji. Zanimljivo je kako među kupcima ima i mladih parova, ali i vremešnijih vlasnika, koji očito ne žure za trendovima, nego prepoznaju kvalitetu i trajne vrijednosti, stvarajući iskustvo koje će se prenositi generacijama, i to je upravo ono na što je MCY posebno ponosan.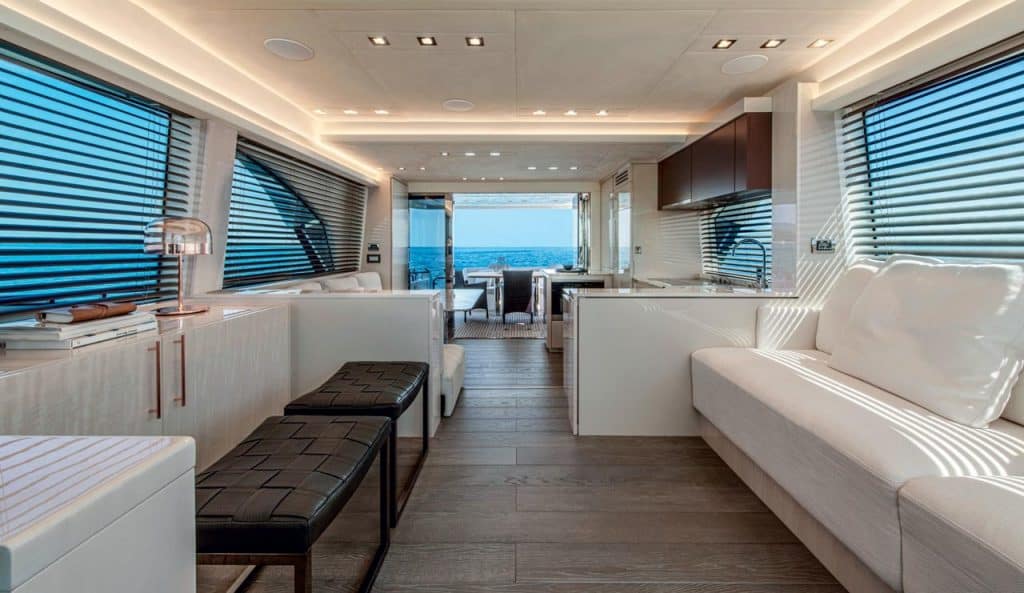 Kako je prioritet prilikom osmišljavanja druge generacije jahti bio maksimaliziran komfor, već ulaskom na krmeni prostor dobivate osjećaj prostranosti. Zahvaljujući smještaju kuhinje odmah do velike staklene stijenke, interakcija s kuhinjom je odlična, bilo da ste u lounge prostoru na krmi s društvom ili se želite u salonu opustiti u tišini. Uz lakirane drvene površine, bijeli namještaj i obilje svjetla, osjećaj prostora dodatno se naglašava, a dizajn interijera je pojednostavljen, ali opremljen vrhunskim materijalima koji udobnost spajaju s elegancijom, a detalji finiša, poput bakrenih dijelova, podižu taj osjećaj na novu razinu. Donja paluba s tri sobe i tri toaleta nije od onih prostora u koje se nerado spuštate. Naprotiv, pomno osmišljen interijer u službi je luksuza i opuštanja, sa stajaćom visinom u svim dijelovima i luksuzom koji ne bliješti na svakom kutku, već se pojavljuje decentno na pravim mjestima. Pametan dizajn u kojem se funkcionalnost isprepleće s ljepotom naročito je vidljiv u vlasničkoj sobi, u kojoj se, osim sofe, našlo mjesta i za kutak u kojem će uživati ljepši spol, te kupaonica veličine susjedne gostinske sobe. Dizajnerski dvojac Nuvolari Lenard ne samo da je stvorio prekrasne linije vanjštine, već je dodatno povećao prostore za boravak na svježem zraku, bilo da je to sunčanje na pramcu ili večera na otvorenom na jednom od najboljih prednjih paluba općenito.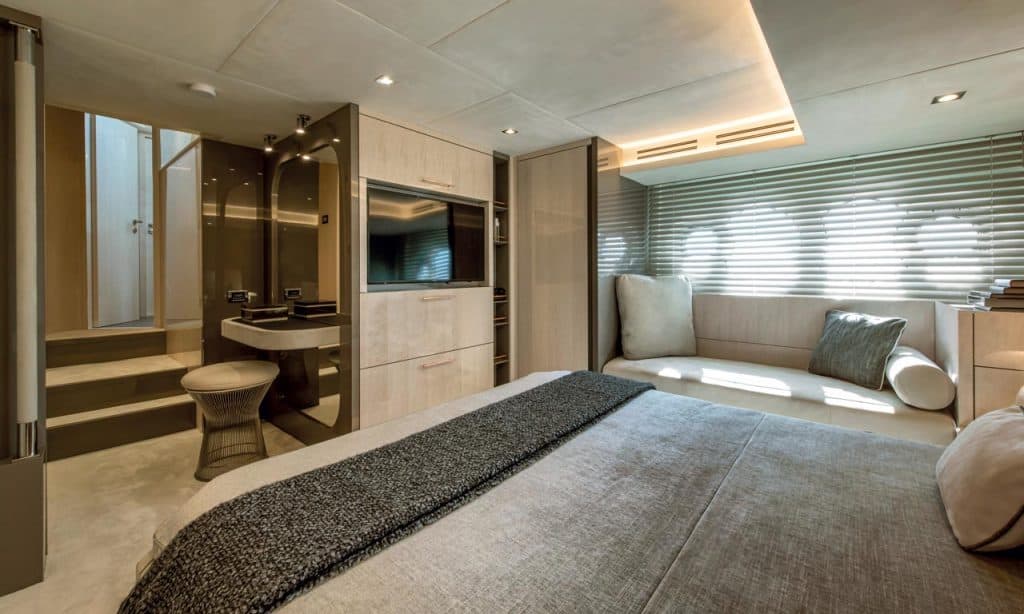 Karbonski 't-top' potpomognut s nekoliko nosača zapravo otkriva pogled od 360 stupnjeva i direktnu vezu s ljepotom koja vas okružuje dok plovite. Sa skiperske pozicije pruža se odličan pogled u svim smjerovima, a osjećaj upravljanja MCY je fenomenalan, bilo da pri krstarećoj brzini siječete valove ili se naglo naginjete pri promjeni smjera. Pritom trup ne reagira brzopleto, nego precizno i odmjereno, da ne kažemo elegantno. Nakon izlaska iz luke zatvaramo vrata i oduševljavamo se tišinom koja vlada salonom i, još važnije, izostankom vibracija, i to neovisno u kojem režimu dva MAN motora od 1000 KS rade. Kod MCY 66 minimalna glisirajuća brzina je nešto iznad 12 čvorova, a uz manje valove u provi postigli smo nešto manje od 31 čvora. Premda se i pri takvim brzinama ponaša odlično, s ovom jahtom nigdje ne treba žuriti, već uživati u plovidbi. I baš u plovidbi Monte Carlo Yachts 66 pokazuje svoj pravi DNK. Premda ne govorimo o velikim brzinama, način na koji ova jahta u tišini graciozno krstari ili razmiče more pod pramcem, a da pritom ne proizvodi ništa osim užitka, istinski je dokaz umijeća Monte Carlo Yachtsa i tradicije koja uzdiže umijeće življenja na moru.
Tekst Filip Bubalo Fotografije & Video Monte Carlo Yachts