Predstavljanje osvježenog izdanja najprodavanije BMW serije 3 pomalo je zasjenio popartistički model iz serije 8, sportski M850i xDrive Gran Coupe The 8 X Jeff Koons, koji je blistao usred zagrebačkog salona Tomić & Co. Generalni zastupnik BMW za Hrvatsku medijima je predstavio jedan od ukupno 99 proizvedenih živopisnih automobila, koje su zajedno kreirali američki konceptualni umjetnik Jeff Koons i bavarski koncern.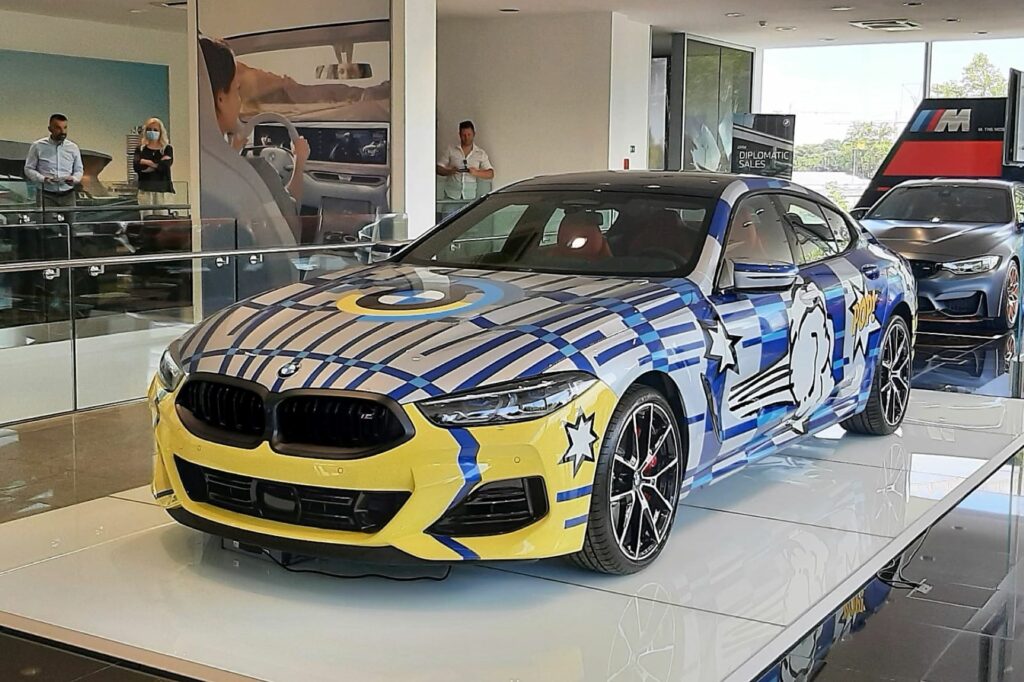 Automobil koji je Oliver Zipse, čelnik Odbora menedžementa BMW, prozvao 'rolajućom skulpturom' nije stvoren samo da bi ga izložili u muzejima, već da bi ga i vozili kolekcionari i ljubitelji osebujnih, upečatljivih jurilica. Početna cijena mu je iznosila 350.000 eura, no jedan od primjeraka na aukciji je prodan za gotovo pola milijuna eura.
'Moja vizija BMW 8 je auto iz mojih snova', izjavio je Jeff Koons kada je početkom godine taj ekskluzivni primjerak predstavljen u Los Angelesu na umjetničkoj manifestaciji Frieze, koju BMW godinama podržava. 'Za mene je to veoma poseban doživljaj jer oduvijek sam želio kreirati specijalno izdanje BMW-a. On je istodobno sportski i blistav, minimalistički i konceptualan. Plava boja nalikuje beskrajnosti prostora i sviđa mi se ideja globalnog automobila', svoj je koncept objasnio 67 – godišnji Koons.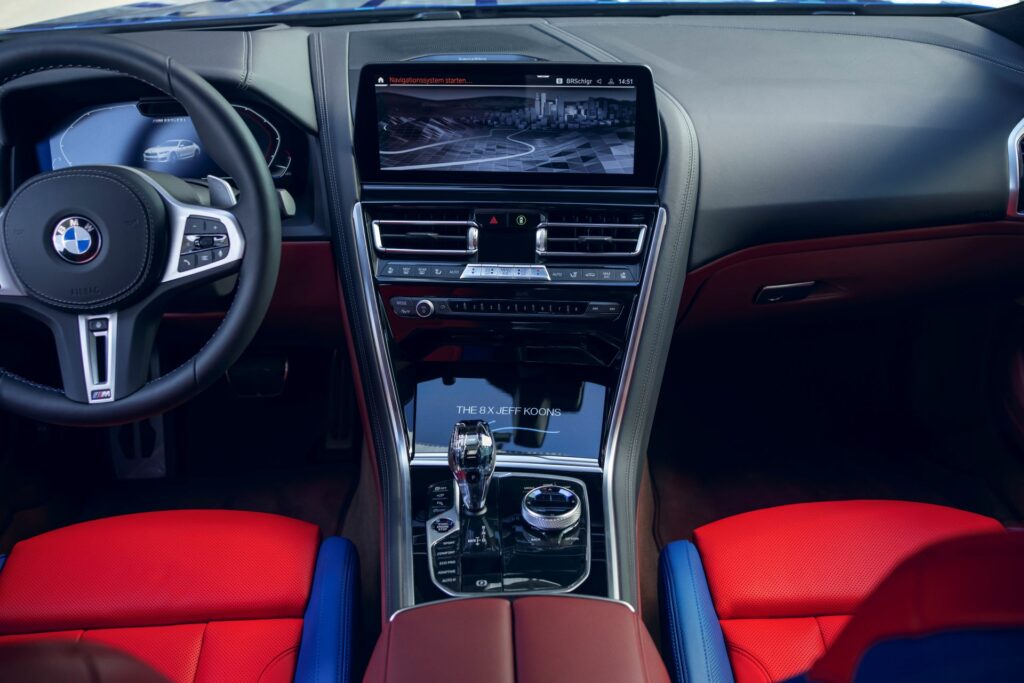 Umjetnik kojeg je ugledni magazin Forbes svojedobno prozvao 'kraljem kiča', još se uvijek može hvaliti rekordom postignutim na aukciji. Njegova skulptura zeca od sjajnog čelika iz 1986. prodana je 2019. u njujorškom Christie'su za rekordnih 91,1 miliijun dolara, što je najviša cijena ikad postignuta za djelo živućeg umjetnika. Rodom iz američke države Pensilvanije, Koons se proslavio koketiranjem s popularnom kulturom i oblikovanjem predmeta iz svakodnevnog života, osobito životinja sastavljenih od čeličnih balona s zrcalnim finišem.
Premda je studirao slikarstvo i jedno vrijeme radio kao asistent u studiju slikara Eda Paschkea, karijera mu je krenula posve drugim smjerom. Radio je kao robni posrednik u trgovini te kao politički analitičar. No sredinom osamdesetih godina prošlog stoljeća započinje njegov umjetnički uspon i od tada ne prestaje privlačiti pažnju javnosti. Jedno vrijeme bilo je to i zbog osebujnog privatnog života. Koons je, naime, kratko bio u braku s Illonom Staller, porno zvijezdom poznatijom pod umjetničkim imenom Cicciolina, koja je pet godina bila članica talijanskog parlameneta.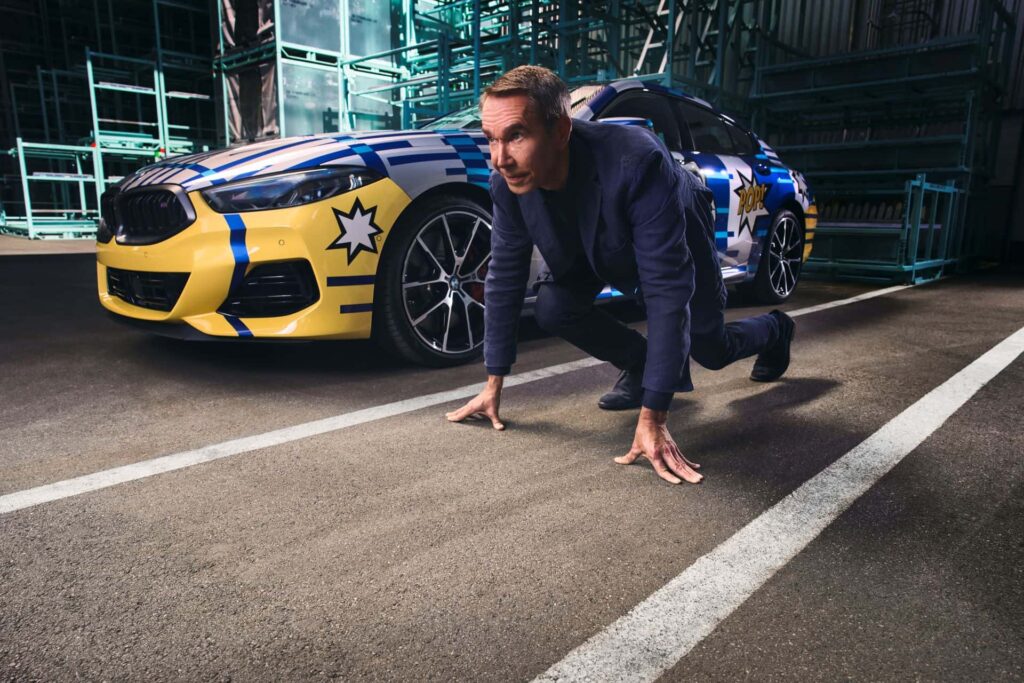 U tom je braku rođen i Koonsov sin Ludwig, jedan od njegovo sedmoro djece što ih je dobio s različitim prijateljicama i suprugama. No veću je pažnju uvijek uspijevao izboriti svojim radovima, a to potvrđuje i posljednja suradnja s BMW-om. U potrazi za idealnim rješenjem puno je sati proveo razgovarajući s zaposlenicima kompanije, ne bi li do najsitnijeg detalja osmislio svoj doprinos Seriji 8.
'Intenzivno sam razmišljao – što je suština Serije Gran Coupe', objašnjava Koons. Mučila su ga pitanja – što je zapravo suština snage, kako kreirati ono što će predstavljati svu energiju BMW-ove Serije 8, a istodobno biti u stanju dotaknuti i ljudski element?
Rezultat je najsloženije dizajniran eksterijer vozila u povijesti BMW-a, a to je zahtijevalo više od 200 sati lakiranja s 11 boja korištenih za upečatljivi POP dizajn, s posebno istaknutim nijansama plave i žute boje te srebrnim akcentom. Na svakom kotaču posebno se ističe Koonsov potpis, a umjetnik je dizajnirao i zaštitni omot priručnika za vozače.
Prvi model iz BMW-ove Serije 8 predstavljen je prije 32 godine, tada je slavljen kao ostvarenje nove persepktive suvremenog automobilizma. Koonsov doprinos njegovom makeoveru na najbolji način nastavlja tradiciju, i ne bez razloga prozvan je umjetničkim djelom na kotačima. Sav prihod od prodaje prvog primjerka ovog ekstravagantnog modela darovan je dobrotvornoj organizaciji Međunarodnog centra za nestalu i izrabljivanu djecu (ICMEC), čiji rad podržava i Jeff Koons.
Tekst Dubravka Tomeković Aralica
Fotografije BMW