Najveća serijski proizvedena jahta u Hrvatskoj odlikuje se jedinstvenim stilom, koji uspješno povezuje tradicionalne vrijednosti brodskog dizajna s modernim štihom
Rođena je najveća hrvatska serijska jahta, i to prva koja premašuje dvadeset metara. Za to je zaslužno brodogradilište Monachus Yachts, koje je imalo vjeru, upornost i znanje proći kroz financijsku oluju koja je zahvatila svijet jahtinga 2010. godine, u međuvremenu do savršenstva dovesti svoj model od 45 stopa, te ove godine zasjati na svibanjskom sajmu u Veneciji, sa svjetskom premijerom svoga novog modela Monachus 70.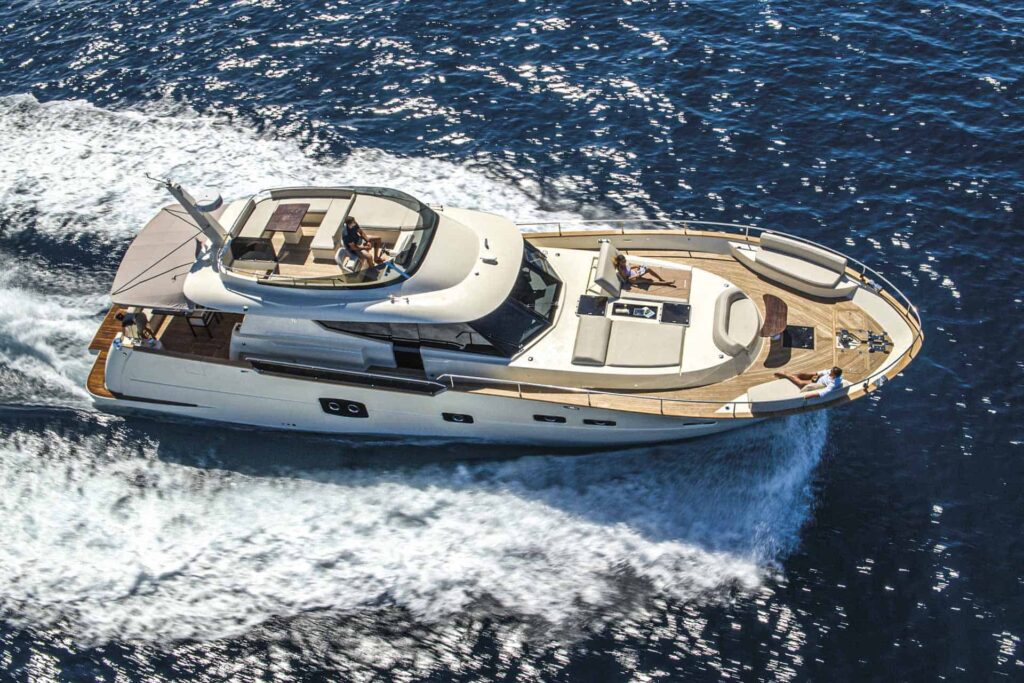 Radi se o posebnoj jahti koja zadržava duh pravog 'lobstera', sa sportskom gornjom palubom i nizom rješenja koja krase današnje moderne jahte, uz senzacionalno velik prostor na pramcu. Kada ga gledamo s krme, primijetit ćemo uronjivu krmenu platformu koja olakšava porinuće tendera duljine 3,30 m koji možete spremiti u krmenoj garaži. Ovaj multifunkcionalan prostor odlično će poslužiti za ljetne radosti kada ste na sidru ili u uvali.
Slijedeći dobru tradiciju brenda, Monachus 70 plovi mirno uz odlične pomorstvene karakteristike
Do kokpita vode stube s obje strane krmenog zrcala, a u njemu se nalazi vanjski stol iroka. Stol se po želji može podešavati po visini, a u podu kokpita su otvori za pristup izuzetno prostranoj strojarnici, koja omogućuje lak pristup svim vitalnim elementima broda, te manje spremište. Veći dio krmenog kokpita natkriven je lijepom tendom od nategnutog platna (sličnu smo već vidjeli na Monachusu 45), s obje strane privezne bitve su opremljene vinčevima za pritezanje krmenih konopa, a vanjska komanda nalazi se s desne krmene strane jahte.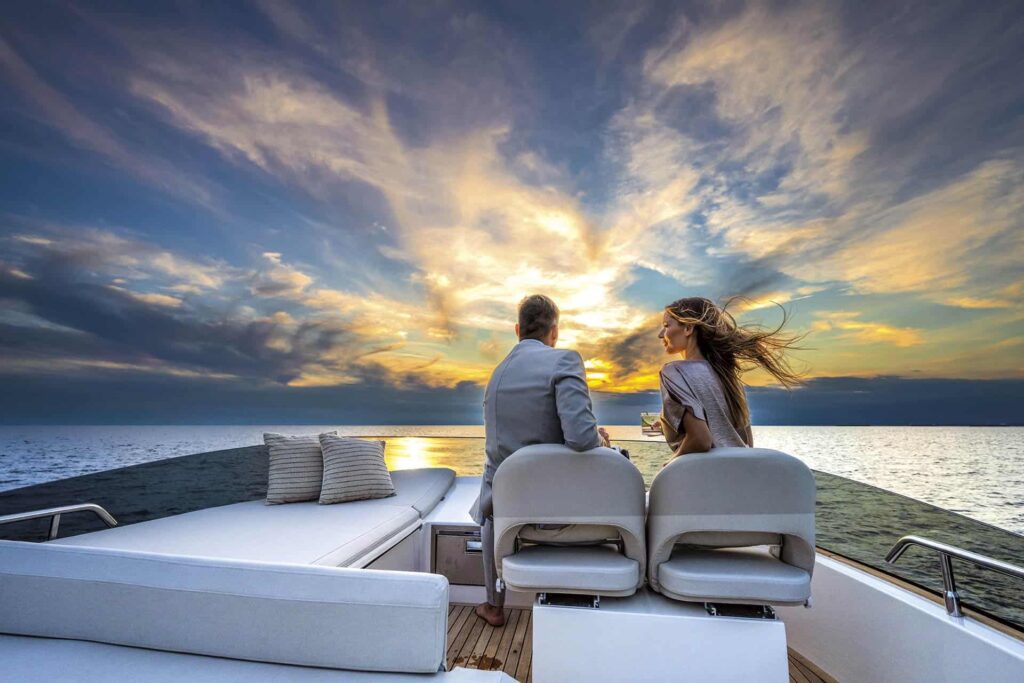 Odmah pokraj komande su i bočna vrata kokpita kao praktičan i brz izlaz/ulaz prilikom bočnog priveza. Iz kokpita se lijepe stube od tikova drva uspinju na sportsku verziju gornje palube, koja pruža dovoljno komfora za sve putnike. U prednjem desnom dijelu 'flya' je kormilarsko mjesto, koje nudi odličnu preglednost, kako prema naprijed, tako i neometan pogled na cijeli desni bok jahte, a brodskim sustavima te navigacijom lako ćete upravljati preko Garminova ekrana od 21".
Tu se još nalazi udobna sofa i manji stolić te hladnjak, a cijeli prostor se natkriva pomičnim bimini pokrovom. Silaskom s gornje palube u salon slijedi prvi 'wow' efekt. Toplo uređeni interijer ispunjen je dnevnim svjetlom, uređen u svijetlim tonovima finih tkanina i tamnom drvu američkog oraha, pa cijeli salon zrači opuštajućom ugodom. Pažljivo izvedena LED linijska rasvjeta na stropu dodatno definira ovaj lijepi brodski prostor. U njegovu krmenom dijelu s lijeve strane nalazi se kuhinja U-oblika opremljena i perilicom za posuđe.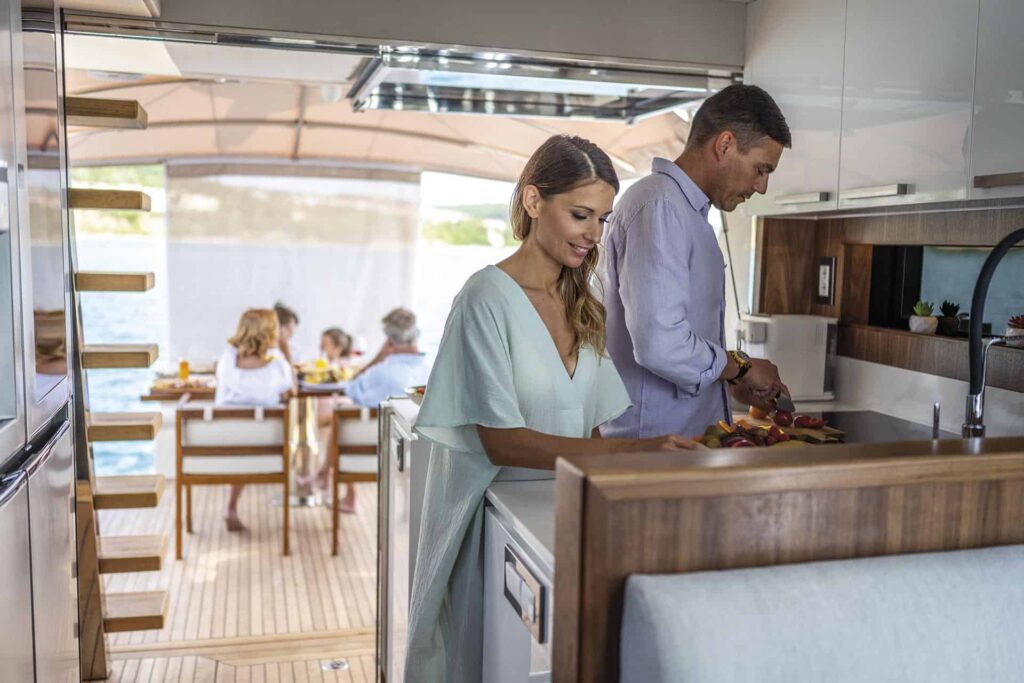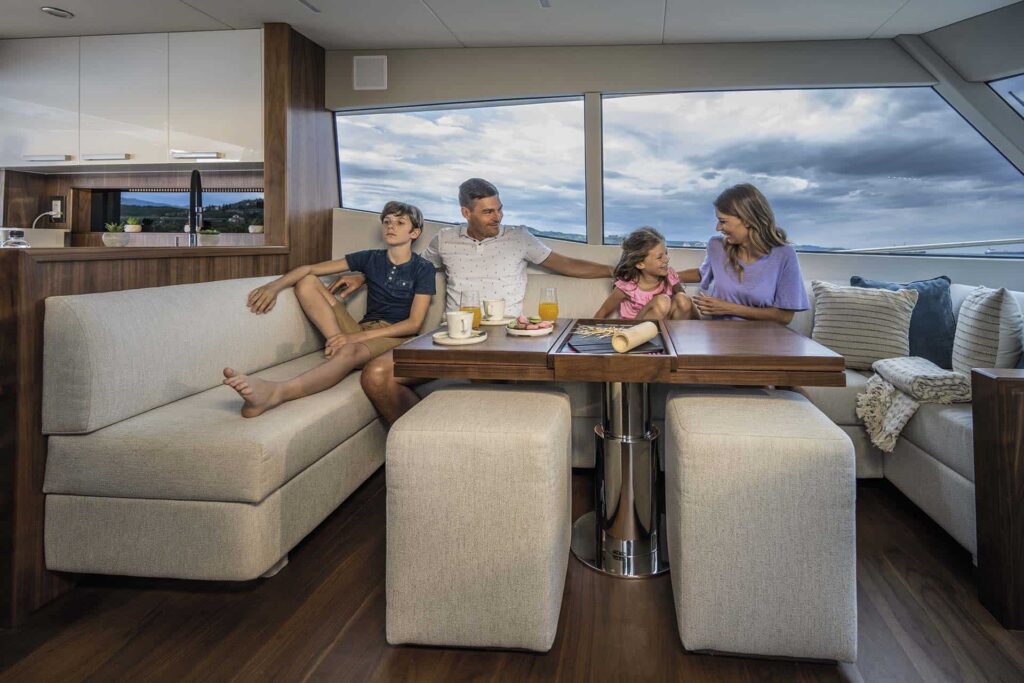 Kuhinja jednako praktično opslužuje i blagovaonicu u salonu i kokpit, a podizanjem staklene stijenke sjedinjuje se čitav prostor kokpita sa salonom. Nasuprot kuhinje nalazi se veliki dvokrilni hladnjak kakav bi se lako mogao pronaći u kakvoj vili, kao znak da Monachus i dalje gradi brodove po mjeri čovjeka. U produžetku je s desne strane komoda u kojoj je u ladicama spremljen pribor i posuđe za blagovaonicu, te televizor koji se podiže iz komode.
Iza kuhinje s lijeve strane je prostrana C-sofa sa stolom te centralno smješten silazak u potpalublje, a s desne strane se nalazi izrazito lijepo oblikovano kormilarsko mjesto, s kormilom kao 'na pravom brodu', od punog drva. I tu se nalaze čak tri Garminova ekrana povezana NMEA mrežom sa svim brodskim funkcijama i kontrolama. Do kormilarnice je praktičan izlazak na palubu kroz bočna vrata. Ovaj detalj nije samo praktičan kada treba izaći na palubu, već puno znači i za provjetravanje cijelog salona, kao i za laku komunikaciju od kuhinje do pramca, dajući mu dodatnu uporabnu vrijednost.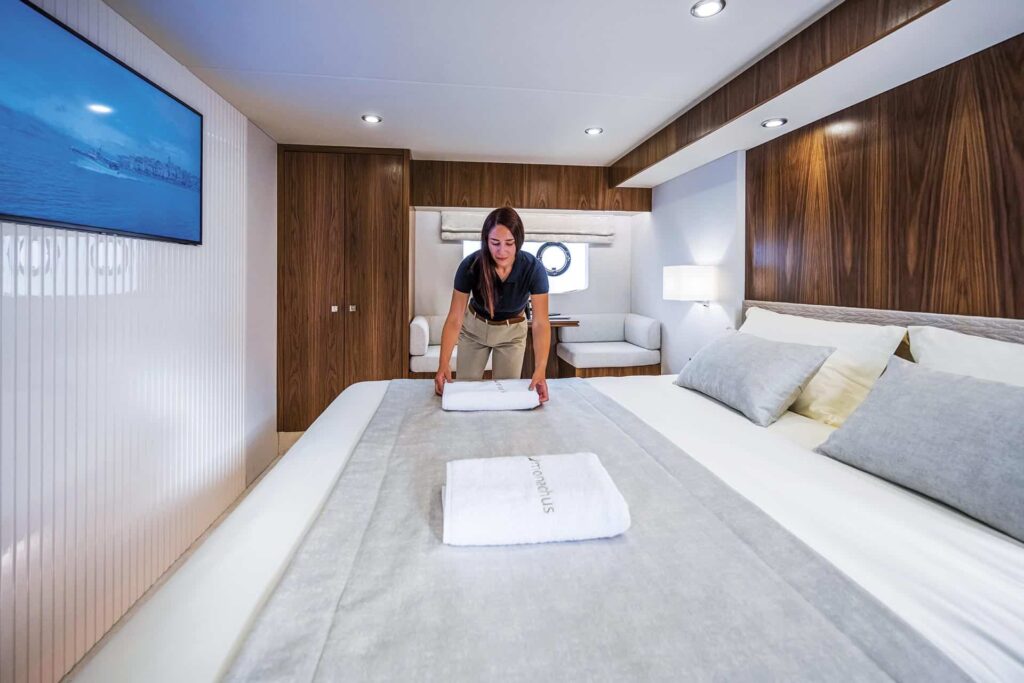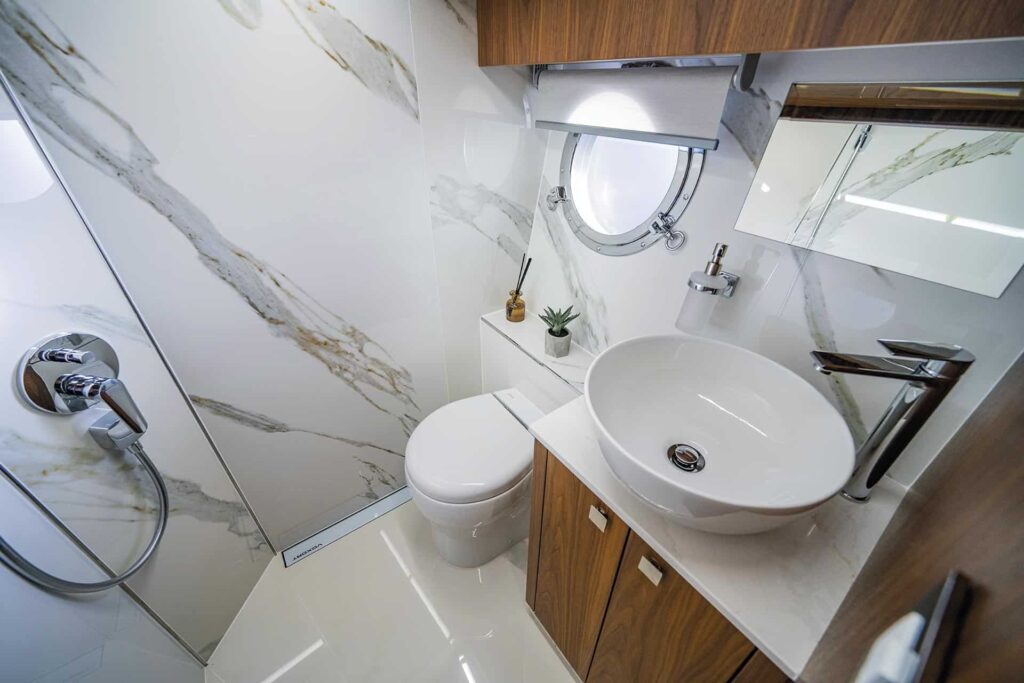 Naime, novi Monachus zahvaljujući obliku korita i položaju salona ima neuobičajeno velik prostor na pramcu. Uz sunčalište po sredini plovila, na njemu se našlo i mjesta za trosjed sa stolićem i dvije bočne klupe, tvoreći najbolji vanjski prostor na brodu, posebno vrijedan kada ste privezani krmom za kopno. Ovaj dio natkriva se 'jedrom' na karbonskim stupovima, a ako vam kažemo da neka i tridesetmetarska nova jahta ima jednako veliku površini na pramcu, onda je jasnije o koliko vrijednom resursu se radi, pa se možemo vidjeti s prijateljima na pramcu dok sunce polako zalazi za horizont.
Golemi pramac najzapaženiji je vanjski prostor nove hrvatske jahte
Tih prijatelja može biti nešto više nego što očekujete jer se u potpalublju nalaze četiri kabine, uz odvojenu kabinu za kapetana i hostesu. Vlasnička kabina prostire se po cijeloj širini u krmenom dijelu, VIP je u pramcu, 'twin' s desne strane, a kabina s krevetima na kat s lijeve strane stubišta. Kako će se ovaj primjerak Monachusa 70 nalaziti u čarter-ponudi, konfiguracija s četiri kabine je logična, ali je izvedba potpalublja s tri kabine kraljevska opcija. Kao što ovaj brend od samog početka baštini pomorstvene karakteristike na svojim manjim modelima, tako su one i kod ove nove jahte odlične.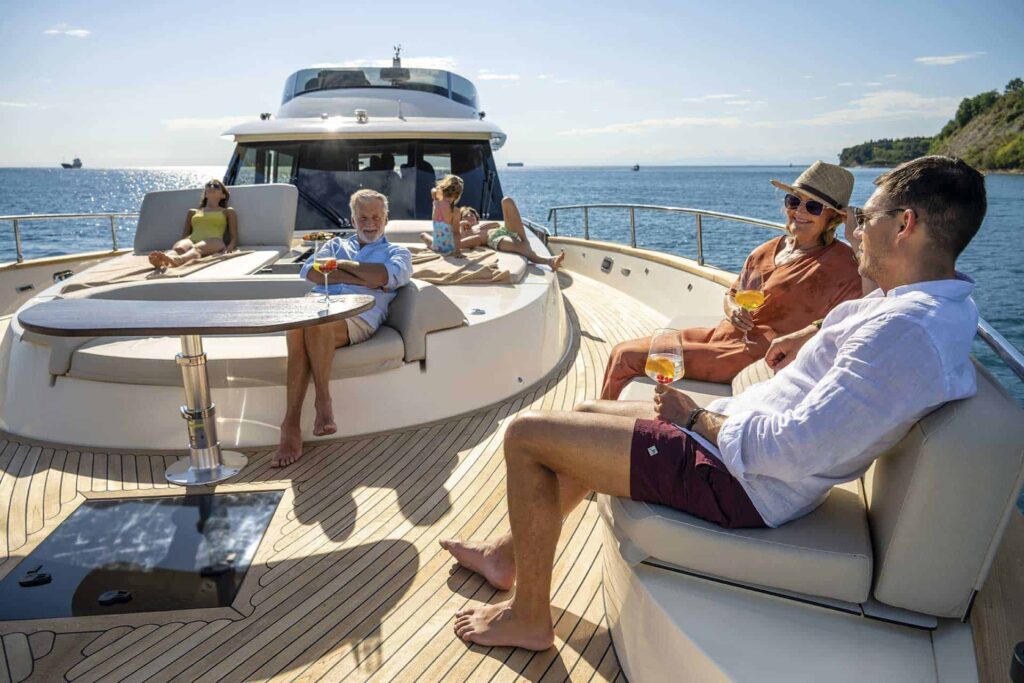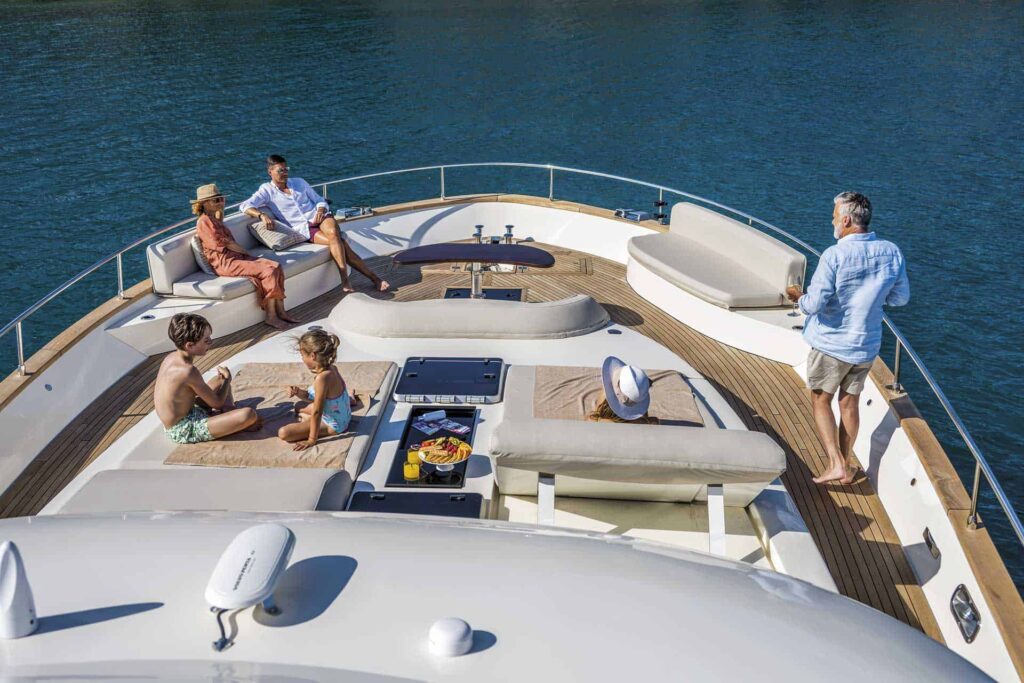 Ona krstari brzinom od 25 čvorova, uz potrošnju od 10 l/nm dok je maksimalna brzina 31 čvor, a za pogon su zaslužna dva Volvo D13 motora s IPS 1200 sustavom. Manevriranje je svedeno na igru ugradnjom joysticka na sva tri komandna mjesta (kormilarnica, fly i krmeni kokpit), kao i DPS (Dynamic Positioning System), pomoću kojeg jednim pritiskom dugmeta jahti dajete zadatak da se samoodržava na poziciji. Predstavljeni Monachus 70 odlikuje se jedinstvenim stilom koji uspješno povezuje tradicionalne vrijednosti brodskog dizajna s odlikama modernog stila. Sve to puno znači za brodogradilište i označava put u lijepu budućnost ovoga hrvatskog brenda.
Tekst Darko Šupuk
Fotografije Monachus Yachts
Više informacija o Monachus 70