Dulje od četrdeset godina Frank Gehry svojim oštroumnim pristupom, metodama i materijalima obogaćuje arhitekturu i za sobom ostavlja prepoznatljiv opus snažnog karaktera
Većina arhitekata nikad ne iziđe iz anonimnosti, barem što se tiče šire javnosti. No, Frank Gehry vrlo je brzo postao poznat poput filmske zvijezde, kao i njegova velika prijateljica i genijalna arhitektica Zaha Hadid.
Frank Gehry uvodi dar-mar u ustaljena pravila
Nagrađivani arhitekt pola stoljeća uvodi dar-mar u ustaljena pravila dizajna i arhitekture: od legendarnog Guggenheim Museum Bilbao do Fondation Louis Vuitton u Parizu, Frank Gehry je stvorio djela koja su pokazala da je ludo kreativan dizajn moguć, ali i da je za njega potrebna uistinu velika vještina.
Rođen u Torontu 28. veljače 1929., Frank Gehry je od malih nogu bio kreativan, ali ne samo onako kako to za sebe danas tvrdi i previše ljudi. Od materijala iz djedove željezarije gradio je kuće i gradove, pokazavši već tad interes za nekonvencionalne građevne materijale.
Pohađao je University of Southern California i Harvard Graduate School of Design, a početkom 1960-ih otvorio je studio u Los Angelesu i pridružio se umjetničkoj sceni Kalifornije sprijateljivši se s umjetnicima Edom Ruschom, Richardom Serrom, Claesom Oldenburgom, Larryjem Bellom i Ronom Davisom.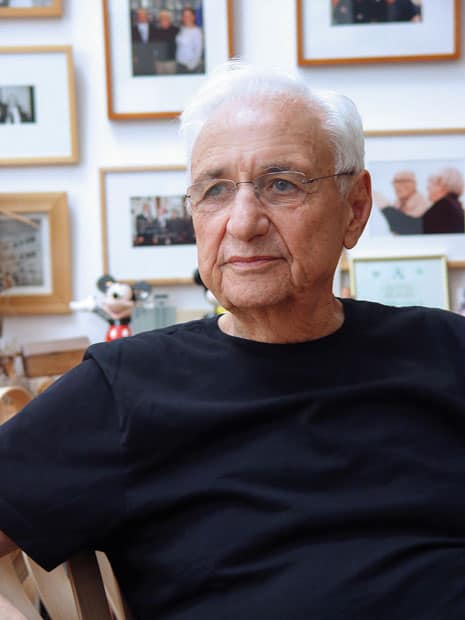 Gehryjev stil iz tog doba neki ocjenjuju kao jednostavan, čak i primitivan, ali svako od njegovih tadašnjih djela savršeno je u skladu s kalifornijskom funk scenom koja je obilježila 1960-e i 1970-e, a temeljila se na pronalaženju umjetničke vrijednosti u neuobičajenim materijalima, poput gline.
Apostol žičanih ograda
Gehry je uvijek bio sklon dekonstrukciji. Jednom je nazvan 'apostolom žičanih ograda i zidova od valovitog metala'. Kad je upoznao rad Roberta Rauschenberga i Jaspera Johnsa, njegov se rad uspeo na novu razinu. Transformacija Gehryjeva viđenja arhitekture utjelovila se u danas svjetski slavnoj kući u Santa Monici, koja je postala njegov manifest.
Gehry je preuredio vlastitu obiteljsku kuću – okružio je valovitim metalnim pločama i željeznom žičanom ogradom, otvorio krov prema nebu kao da reže kuću na pola.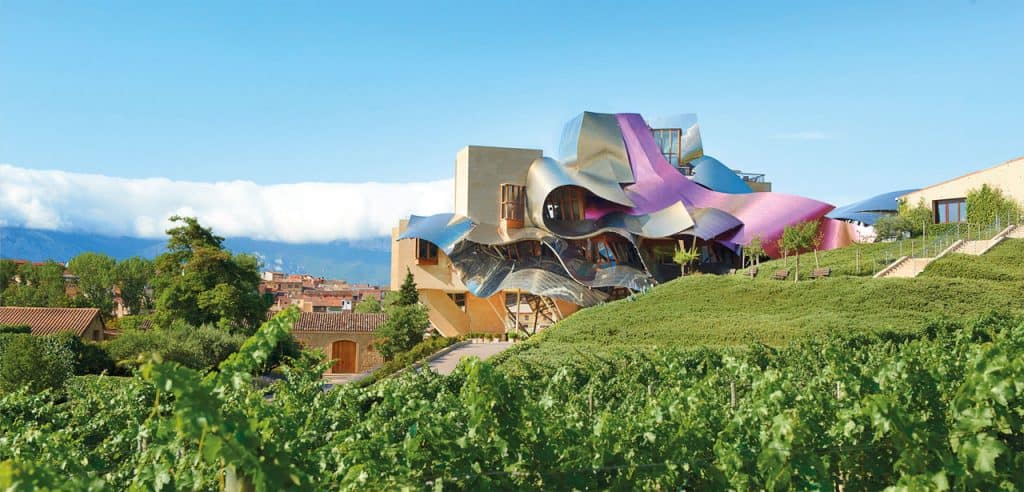 Avangardni dizajn vrlo je brzo privukao pažnju arhitekata, a njegova karijera vinula se u očekivane visine. U 1980-ima Frank Gehry je posuo južnu Kaliforniju svojim kućama kao da ukrašava tortu šećerom, a te su kuće i dandanas predmet rasprava o umjetničkom izrazu, o metodama dizajna, o materijalima – primjerice, upotrebi jeftinih materijala poput kartona, tankih željeznih ploča i žice.
Muzej Guggenheim udahnuo je novi život Bilbau
Kako približiti arhitekturu čovjeku? Kako je humanizirati? Kako stvoriti nešto novo nakon kolapsa industrije? Gehryjev rad traži odgovore na sva ta pitanja, kako kroz svako pojedinačno djelo, tako i kroz njihovo uklapanje u urbanu viziju.
Može ga se smatrati urbanistom koliko i arhitektom, jer njegova djela – za što je možda najbolji primjer Guggenheimov muzej u Bilbau – imaju toliku moć da mogu udahnuti novi život dijelu grada u kojem izrastu. Kako je rasla Gehryjeva popularnost, tako su mu na stol dolazili sve važniji projekti.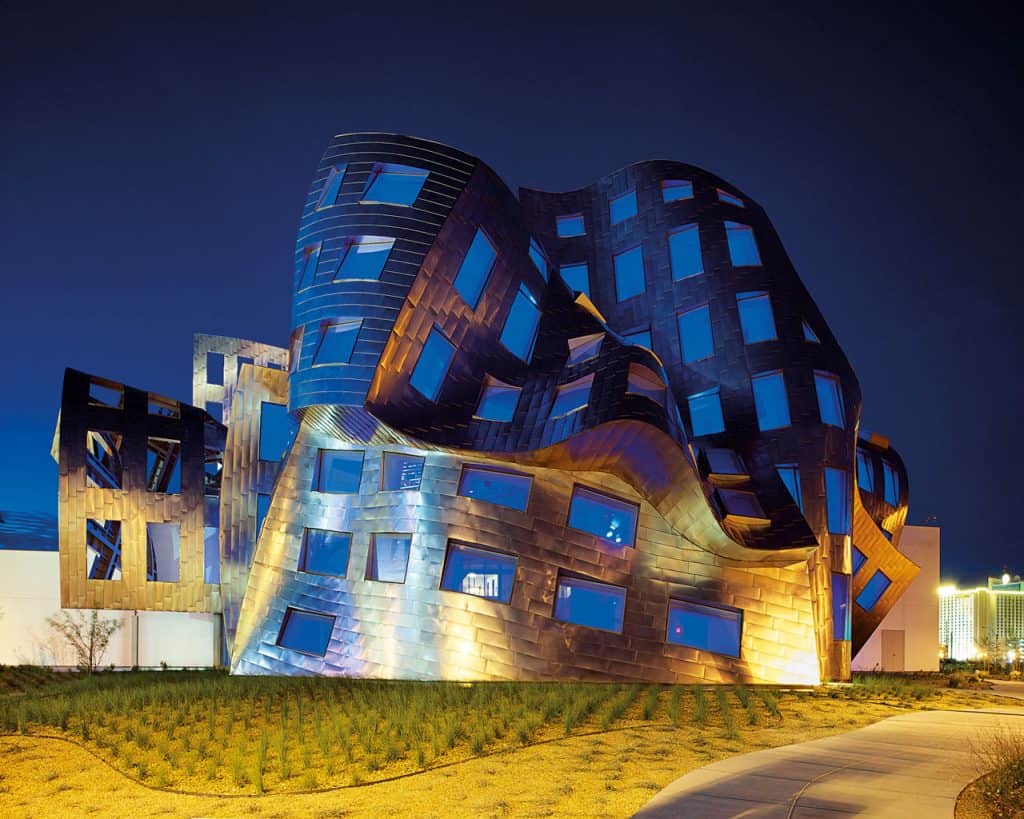 Svaka je od velikih zgrada koje je dizajnirao, poput koncertne dvorane Walt Disney u srcu Los Angelesa ili Dancing House u Pragu, postala turistička atrakcije. Gehryjev rad odražava duh eksperimentalnog razmišljanja, ali i poštovanje prema profesionalnosti, prema pravilima arhitekture kao zanata, koliko god bio avangardan i koliko ga god bilo teško pridružiti bilo kojem definiranom stilskom pravcu ili pokretu.
Iako je u početku obrazovanja bio sklon modernizmu, Frank Gehry se vrlo brzo odmaknuo od stilskih počela tog pravca, zadržavši tek neke ideje o potrebi za transformacijom arhitekture. Veliki arhitekt kao da neprestano hoda po žici i balansira između zadanih parametara i neočekivanih oblika.
Njegove su zgrade opisane kao zabavne, uzbudljive skulpture, iako u posljednje vrijeme kritičari ističu da će 'Gehryjev pristup postati manje relevantan kad nas okolnosti prisile da se snađemo s manje'.
Fotografije Pixabay, Eric Cuvillier/Hotel Marqués de Riscal, Patrick L. Pyszka/City of Chicago i Matthew Carbone