Naručitelj ove fantastične i jedinstvene ljepotice pod jedrima strastveni je jedriličar, koji Scuderiju 65 koristi za offshore regatavanje, ali i za krstarenje kao na 'običnoj' jedrilici
Iskustvo stečeno jedrenjem od najranije dobi Harry Miesbauer uspješno je primijenio u studijima Germana Frersa i Luca Brenta, te dizajnirao neke kultne regatne modele: klase TP 52 , Nautor 76 i Wally B. Kolaboracija s Frauscherom rezultirala je i vrlo uspješnim open jahtama, no u njegovoj karijeri to je rijetka iznimka, jer Harry živi jedrenje, što je više nego očito na njegovu zadnjem projektu – performance cruiseru Scuderia 65.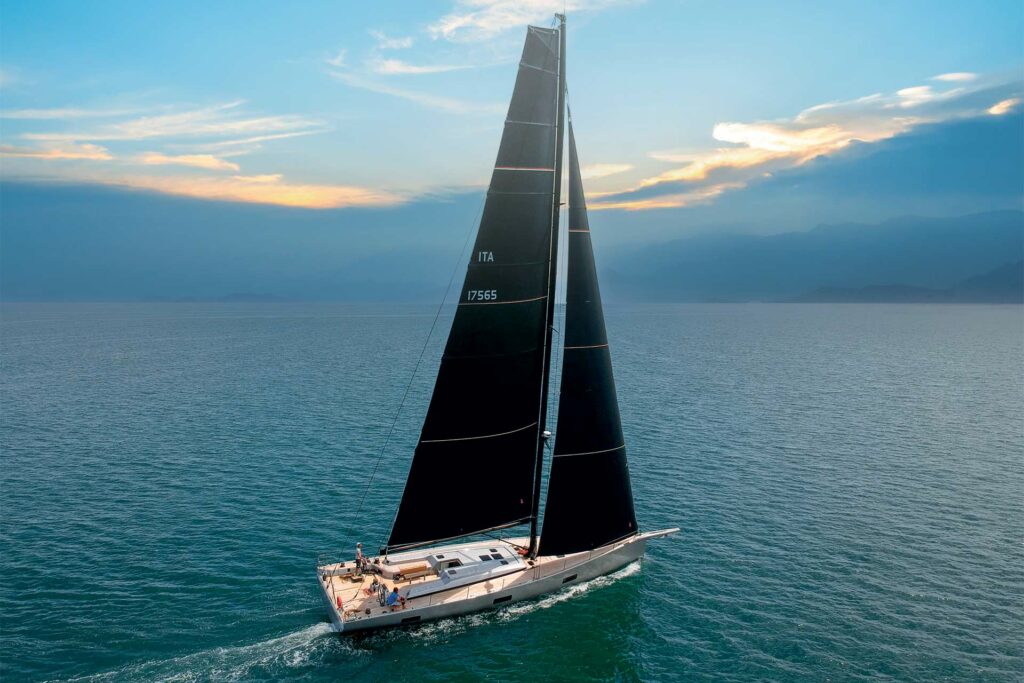 Potpuno karbonsku jedrilicu premijerno smo predstavili pretpandemijske 2019. godine u Yachtsu, a dvije godine smo nestrpljivo čekali da je vidimo uživo. Zahvaljujući Master Yachtingu i njihovu Boat Showu u D-Marini Sukošan, Scuderia je na neki način i formalno predstavljena kao svjetska premijera. Do sada je odradila nekoliko mediteranskih offshore regata, poput Aegeana 600 (3. mjesto), Middle Sea Racea, La Ottante, Cinquante i Barcolane, tako da su ljubitelji jedrenja već upoznati s potencijalom ove karbonske jurilice.
Elegantna u svojim zaobljenim, ali moćnim linijama trupa, impresivna u svojim gabaritima, Scuderia 65 ultimativna je karbonska 'igračka' kojom se vlasnik može zabavljati na regatama diljem Mediterana. Ovo je bez sumnje prava regatna jedrilica (optimizirana po IRC-u), a koja također vlasniku pruža i ugodu krstarenja, no za današnje standarde u proizvodnji luksuznih jedrilica na posve neuobičajen način. I to u vrlo pozitivnom smislu, pa ne čudi što je Scuderia osvojila A' Design nagradu za dizajn.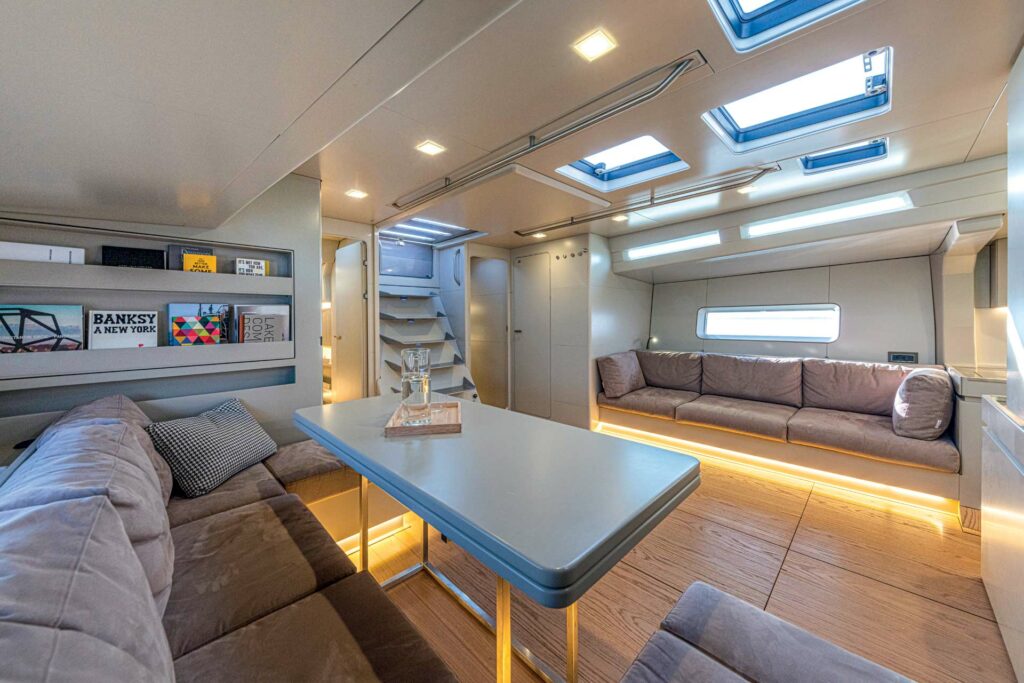 Premda su prvi renderi interijera bili izvedeni u bijeloj boji, Harry se s vlasnikom ipak odlučio za sive tonove, ali bez 50 nijansi. Na istoj estetici jednostavnosti i zbog zahtjeva vlasnika da istisnina bude ispod dvije tone, interijer je u potpunosti podređen funkcionalnosti, a namještaj je rađen iz kompozitnog kalupa, dok su uređaji modularni kako bi se za regatu lakše izbacili.
Dominacija sive boje i površine bez izbočina djeluju umirujuće, a raspored i korišteni tekstilni materijali te unisoni otvori za svjetlo daju dojam ugode. Kada se zagledate malo bolje, 'izlaze' razni detalji, ali i skiperski stol, brojni pretinci, U-sofa, te opremljena kuhinja koja je pomaknuta prema pramcu i naslonjena na spremište pomične kobilice, pa cijeli interijer poprima neku vrstu pročišćene elegancije, naročito kada se upale diskretna svjetla.
Harry napominje kako vlasnik u dvije godine nije promijenio ni jednu stvar na jedrilici. Svaka od tri kabine ima svoj toaletni prostor, a vlasnička kabina u pramcu, iako prostorom veća i sa sofom, po pitanju raskoši je u skladu s ostatkom interijera.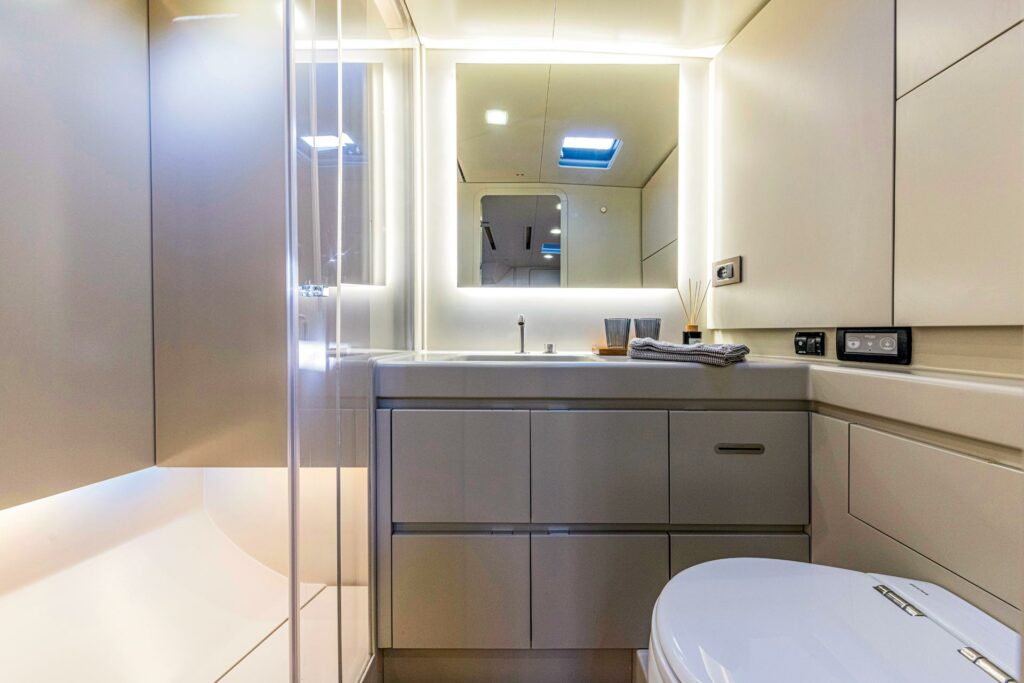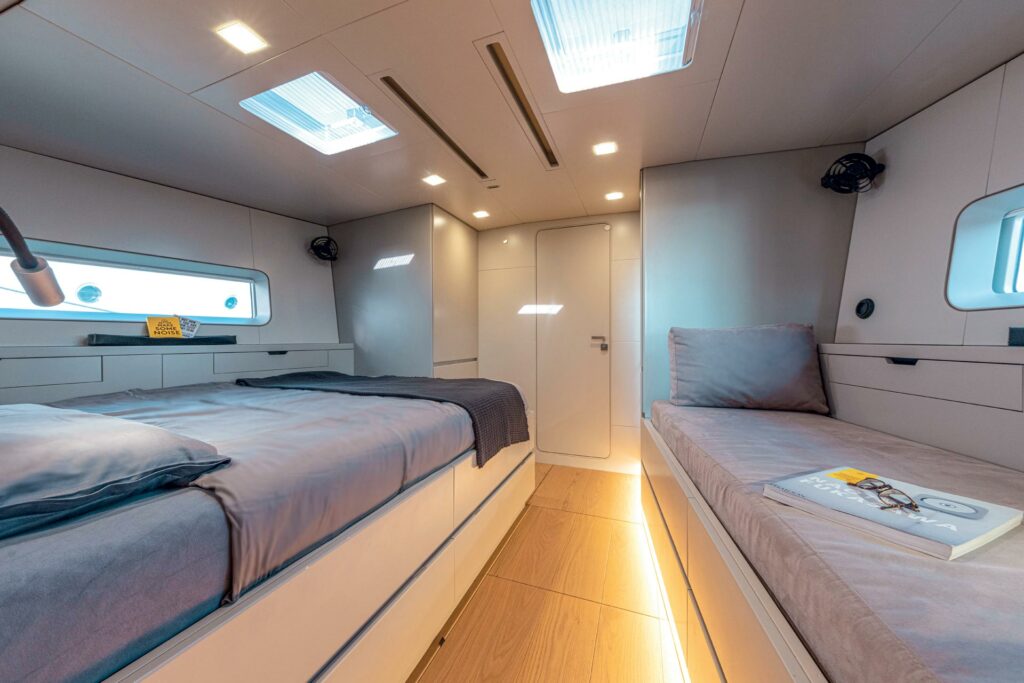 Na ovakvoj jedrilici ionako samo želite biti na palubi, odnosno za kormilom. Paluba je u potpunosti pročišćena i, s obzirom na svu količinu opreme, prohodnost je po svim dijelovima odlična, uz zaobljeni i glatki krov kabine, inače odlično dizajniran. Na krmi je sve 'po špagi', pa je između dva kormila, koji na nosačima imaju B&G navigaciju, thrustere te prekidače za hidrauliku, smješten natezač glavnog jedra na čijoj su konzoli i svi prekidači za upravljanje snasti.
Cijeli palubni sustav je Harken, ali je hidraulika Cariboni, jer oni zbog pritiska (5000 psi) koriste uže cijevi, kako bi cijeli sustav bio reduciran na najmanju moguću težinu. Kao pogon instaliran je Volvo D3 od 150 KS, a za ostalo tu je generator od 10 kW. Na dan testiranja tramontana se lagano podignula do maksimalnih 15-ak čvorova, i to je tamo gdje, po riječima stalnog skipera, Scuderia caruje. Dva sata jedrenja ispred marine bilo je dovoljno da osjetimo za što je Scuderia sposobna.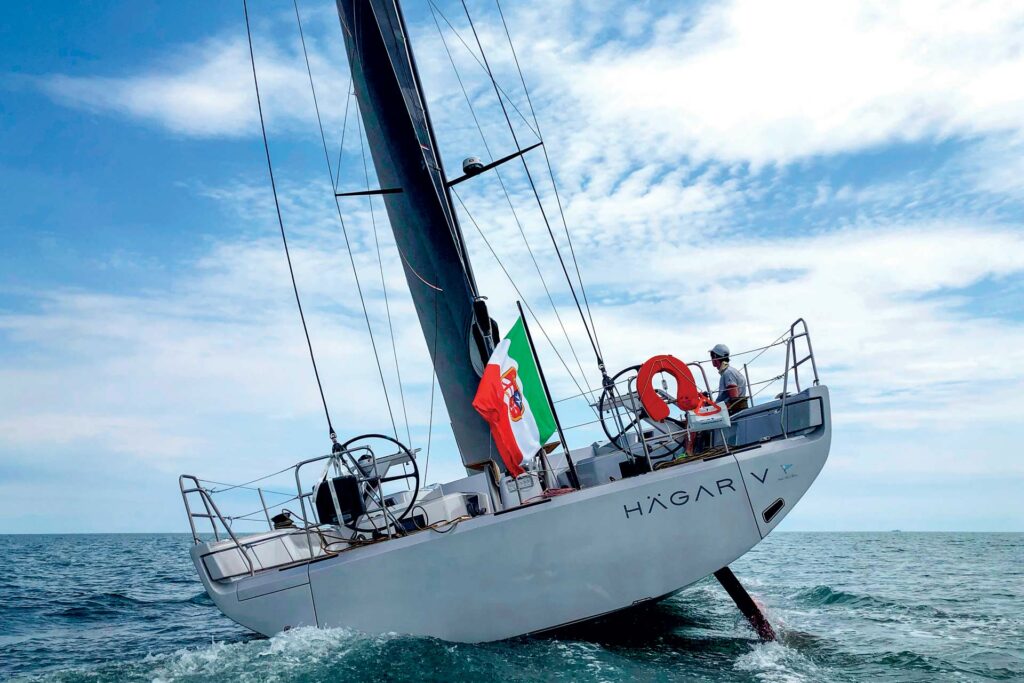 Tako da smo se, uz pomoć Harryja na glavnom jedru i koji je inače uvijek član posade na regatama, uvjerili kako je uistinu moguće upravljati Scuderijom udvoje. Nevjerojatno je s kojom se lakoćom 20-metarskom ljepoticom lako penje uz vjetar. Dakle, u Scuderiji može uživati svatko, a opet s totalnom (racing) površinom jedara od 260 četvornih metara imate 'arsenal' za osvajanje svih većih regata.
Upravo je to pokazala posljednja Barcolana, na kojoj je na udare tršćanske bure do 42 čvora ova karbonska jedrilica imala razvijena puna jedra, te ciljem prošla kao 14. brod, od gotovo dvije tisuće jedrilica.
Nismo mogli ne izdržati i pitati koja je maksimalna brzina postignuta, na što nam je Harry zadovoljno odgovorio – 28,7 čvorova (cruising jedra i dva člana posade). Ipak, od toga mu je bilo draže napomenuti da su na testiranjima postigli veću brzinu nego što je predviđeno VPP-om (Velocity Prediction Program), odnosno brže od prividne brzine vjetra! Je li vam potrebno još koje pojašnjenje o genijalnosti Miesbauerova dizajna? Naravno da ne. Gledajte i uživajte, na utrkama i krstarenju!
Tekst Filip Bubalo
Fotografije Dede De Luca / OneSails & Andrea Muscatello
Video Master Yachting
Više informacija o Scuderia 65