Jedan od zaštitnih znakova otoka Paga je i njihov čuveni paški sir u čijoj jedinstvenoj aromi, zahvaljujući biranom mlijeku otočnih ovaca, uživaju brojni ljubitelji vrhunskih zalogaja
Otok Pag skriva mnoge vrednote u svojim njedrima; stoljećima se tu brala dragocjena sol, paška čipka svjetski je poznata, a paški maslinici tako su prepoznati da imaju vlastitu izložbu. U posljednjih pola stoljeća još je jedna paška atrakcija zaslužila svoje mjesto pod suncem, a to je paški sir – najpoznatija hrvatska mliječna prerađevina. Ona danas zasluženo uživa gastronomski status kojim se smjestila među najboljim delicijama koje na ovim prostorima možete probati. Zahvaljujući domaćem ovčjem mlijeku, punom posolice koju nosi velebitska bura, i egzotičnom utjecaju lokalnih trava, ovaj sir ističe se i u svijetu. Stoga smo prilikom našeg posjeta Pagu odlučili posjetiti i 'mamu' tog sira, koja se nalazi odmah na ulasku u to lijepo dalmatinsko mjesto.
Paška sirana ugostila nas je srdačno, te smo imali priliku snimiti kako nastaje najpoznatiji proizvod s tog otoka, koji se radi od siječnja do kraja lipnja, samo u vrijeme kada ima ovčjeg mlijeka. Sveukupno se napravi oko stotinu tona paškog sira godišnje. Postupak je jednostavan, te se po originalnoj recepturi radi već gotovo sedamdeset godina. Mali pogon osnovan 1946. godine, osim ovčjeg sira po kojem je najpoznatiji, na tržište svake godine izbaci novu vrstu sira, poput dobro prihvaćenog sira Pramenko. Vidjeli smo u sirani još niz zanimljivih proizvoda, poput sira s kaduljom ili onog s tartufima koji se proizvodi za istarski Zigante.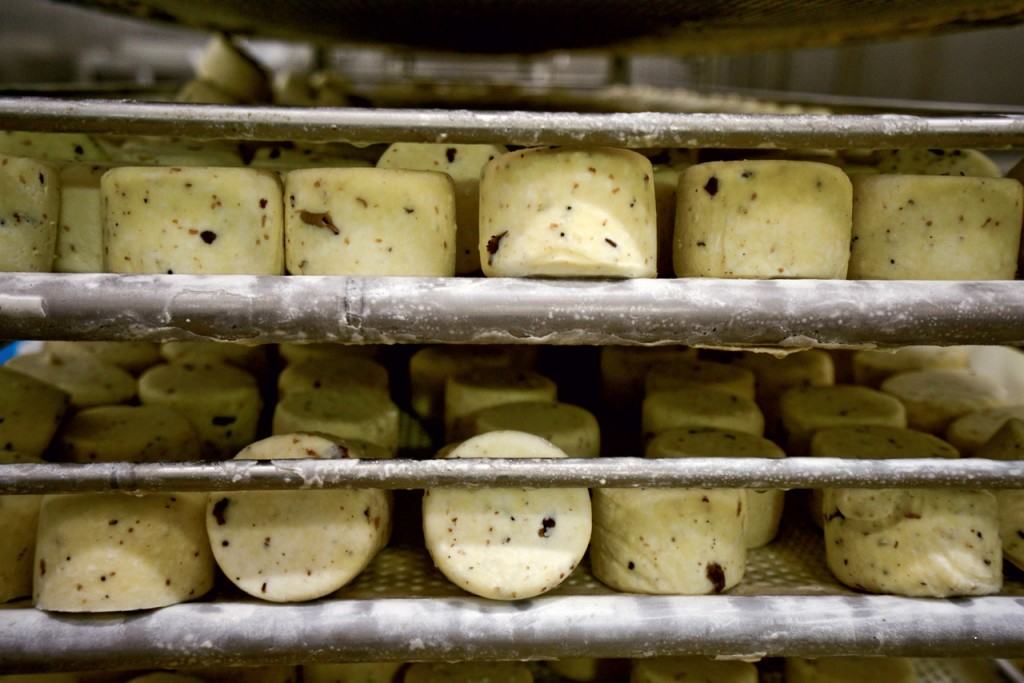 Sirevi s Paga redovito osvajaju i nagrade na međunarodnim natjecanjima, osvajajući medalje za koje se relativno malo zna u domaćoj javnosti. Jedan od najzanimljivijih proizvoda je paška skuta (puina) koja je i zdravija od samog sira i koju ćete jako teško pronaći u trgovinama jer se sve količine odmah prodaju. Danas je Paška sirana moderan i uspješan kolektiv, narastao oko svog najpoznatijeg proizvoda, i pravo kraljevstvo dobrog sira. Da bismo vam dočarali o kakvom se raju od sireva radi, dovoljno je reći da se u pogonima nalazi oko 100.000 komada sireva. U sirani su ponosni na svoj rad i tvrde da je svaki njihov sir kao Rolls Royce – ručni rad. Kako smo u siranu došli tijekom našeg obilaska juga tim automobilom – mi smo uživali i u jednom i u drugom.