Osim u nautici, Zucconov dizajn naći ćete i u drugim industrijama. Jahte su ipak najveći razlog za njegov međunarodni ugled, a nakon desetljeća kreiranja novih jahti kao novi materijal, čiju primjenu pažljivo razmatra u brodogradnji, vidi staklo, dok veliko zadovoljstvo pronalazi u radu sa svojom obitelji
Koji biste model odabrali za highlight godine?
Definitivno Custom Line Navettu 37. Taj projekt predstavlja značajan pomak za svojega graditelja, smatram ga početkom novog smjera, nove filozofije. Navetta 37 ističe se stilom koji, čak iako je drugačiji od svega što je brend gradio u prošlosti, ne gubi ništa od svega onoga što ljudi žele od Custom Linea.
Što nam možete reći o suradnji s novim vodstvom Ferrettija i superuspješnom brendu Custom Line?
Povijest našeg studija proteže se na više od četiri desetljeća i sve te godine trudimo se stvarati kvalitetne odnose s klijentima, stvarati trajne veze, jer smo uvjereni da je kvaliteta dizajna koju izražavamo projektima neraskidivo povezana s kvalitetom odnosa između dizajnera i klijenta. Kad se upoznate, povežete s klijentima, kad ih naučite poštovati koliko i oni vas i, najvažnije, kad se držite svoje etike, stvorit ćete uvjete za kvalitetu, a točno je to nama pošlo za rukom s Ferretti Yachts. S njima surađujemo od 1990., a za brend Custom Line smo zaduženi od prvoga dana, otkako je stvoren 1995.
Kakve projekte smatrate važnima za budućnost, i zašto?
S obzirom na to da svakom projektu prilazimo s jednakom količinom pozornosti, da nam je jednako važan apsolutno svaki projekt na kojem radimo, mislim da će se istaknuti oni koji smisle nešto revolucionarno u pogledu življenja na brodu, koji ponude najbolje od tog iskustva.
Vidite li nešto novo na horizontu što se tiče novih materijala?
Naravno, u tom dijelu industrije ima mnogo novosti. Nama je najvažnije staklo, jer izravno utječe na oblikovanje prostora i kvalitetu života na brodu, kao i na dizajn nadgrađa, s kojim je unutrašnjost povezana.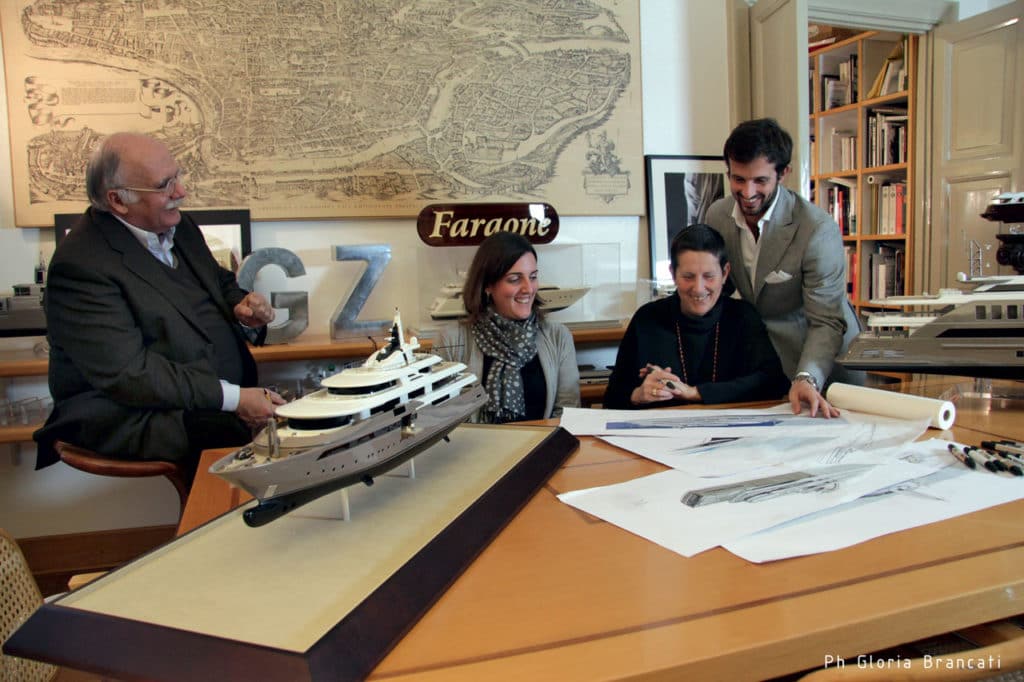 Možete li nam dati neki primjer dizajna koji ste odradili izvan nautičkog sektora i objasniti zašto vam je važan?
Tijekom našeg dugog djelovanja, a studio je od samih početaka jednako posvećen svim granama dizajna, i to vlastitim izborom, za ESRIN (European Space Research Institute), u Frascatiju blizu Rima, dizajnirali smo nekoliko tipova zgrada: urede, kantine, centre za obradu podataka, računalne laboratorije i drugo. Sve njih koriste internacionalni znanstvenici, pa smo ponosni na to što smo ih uspjeli dizajnirati tako da se u njima svi osjećaju jednako ugodno. Najzadovoljniji smo zbog te suradnje koja sad već traje 35 godina, kao i zbog pozitivnog feedbacka koji za svaku novu zgradu unutar tog kompleksa dobivamo od ljudi koji u njima rade svakoga dana.
Sigurno vam je lijepo raditi s obitelji. Možete li nam opisati kako to izgleda i reći koja je vaša uloga u studiju?
Ne moram vam ni reći koliko je lijepo raditi sa svojom suprugom, sinom i kćeri. Prelijepo je to, jača našu obiteljsku povezanost, potiče nas na druženje i kroz sve to se i bolje upoznajemo. Ipak, to ne znači da je ovakva suradnja laka. Svatko se od nas mora prilično truditi da zadrži vlastito djelovanje unutar nekih granica jer, naravno, iznad naših odnosa je ipak posao. Otkako smo se Paola i ja vjenčali 1973., naš je cijeli život i rad jedan zajednički proces koji pokreću prijateljstvo, ljubav, entuzijazam, zajednički ciljevi, uspjesi i porazi. U svemu tome kasnije su nam se pridružili Martina i Bernardo. Martina je više na mamu, a Bernardo na mene, oboje doprinose radu i evoluciji studija Zuccon, kao što to čine i naši drugi suradnici, i to ne samo zato što su arhitekti i dizajneri, nego i zato što se svi držimo određenih principa koji su temelj našeg rada: ljubav prema poslu, poštovanje prema projektu, poštovanje povijesti studija, poštovanje suradnika i klijenata.
Poznajete li Hrvatsku?
Posjetio sam Hrvatsku, ali je ne poznajem dobro. Bio sam samo u Splitu i Dubrovniku. Proveo sam nekoliko nezaboravnih dana na Mljetu, ali nisam dalje putovao. Nadam se da ću to uskoro moći: želim ploviti vašim otocima i dobro ih upoznati.