Inovativan sustav za manevriranje i pristajanje čini šest kamera ugrađenih u trup broda koje pružaju skiperu 360 pogled i uparene su s Volvo IPS motorima
Umijeće plovidbe koje se nekad stjecalo desetljećima već sada je donekle nadomješteno modernim tehnologijama, no čini se da će u budućnosti ta uloga postati skoro pa potpuna, ali će se sigurnost plovidbe pa i užitak definitivno povećati. Velik korak prema automatizaciji navigacije zajednički su napravili Garmin i Volvo Penta, dvije vjerojatno najinovativnije kompanije u nautičkoj industriji i čija je suradnja proteklih godina iznijela niz inovacija kojima se iskustvo plovidbe zauvijek promijenilo na bolje.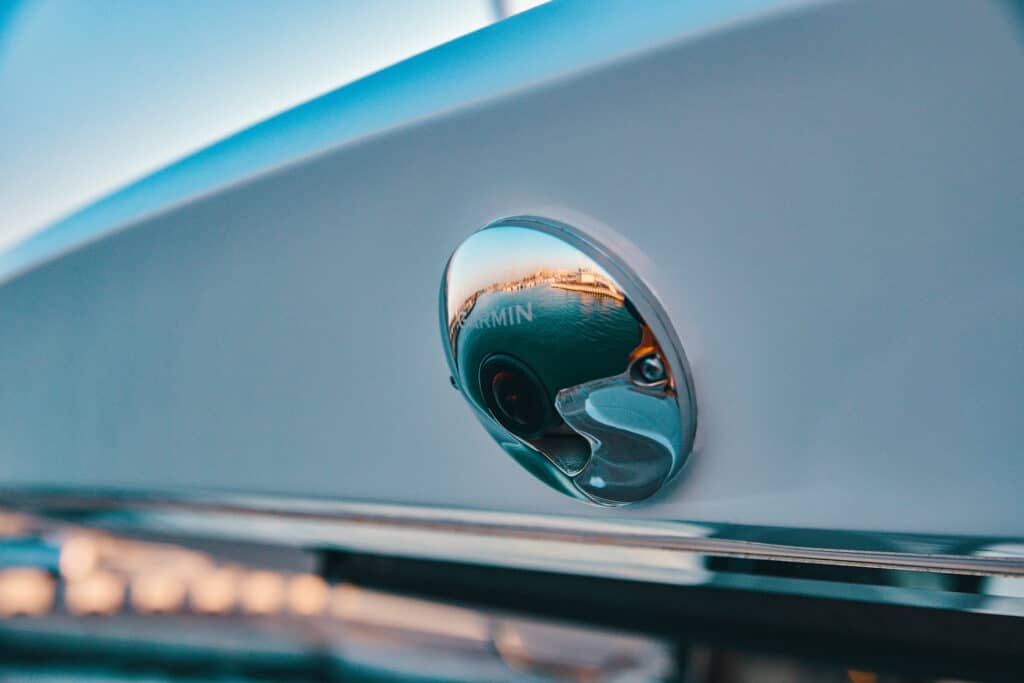 Njihov najnoviji projekt Assisted Docking s kamerama Garmin Surround View, inovativni sustav za manevriranje i pristajanje koji sačinjava čak šest kamera (1080p) ugrađenih u trup broda koje pružaju skiperu real-time 360 bird's-eye pogled i koje su uparene s Volvo IPS motorima, predstavljen je na nedavno održanom Cannes Yachting Festivalu. Live prezentacija ovog revolucionarnog sustava izazvala je veliko zanimanje stručne javnosti i posjetitelja, jer se tijekom predstavljanja sustava na ekranima uživo moglo vidjeti kako funkcionira sustav Assisted Docking ugrađen na jahti Prestige.
Na brodu je ugrađena i Garminova super precizna antena MSC 10 Marine Satellite Compass koja omogućava precizne pokrete uz pomoć joysticka, ali što je bitno napomenuti i drži brod fiksiranim na mjestu poput funkcije DP (dynamic positioning), te skiperu pruža dovoljno vremena kako bi procijenio situaciju i to putem Garmin Surround View prilikom jedne od najstresnijih situacija – pristajanja. Među okupljenima se našao naravno i Neven Čolić, direktor Garmina za Hrvatsku, koji se okušao u test vožnji novog sustava.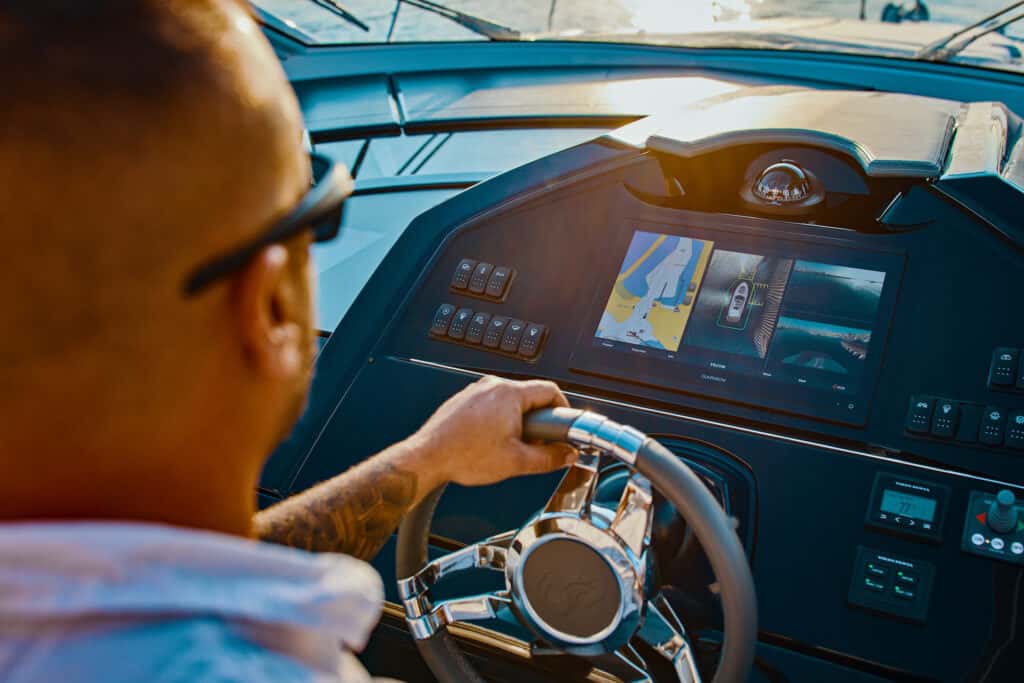 Prenosimo njegove dojmove: 'Na kamerama se lijepo vidi koliko se brod nalazi od pontona i od broda sa strane, a funkcija 'Hold' radi savršeno, te je brod stajao pola metra od pontona, a sustav se sam palio i okretao IPS-ove. Na brod se moglo komotno i sigurno ući i izaći, a da brod nije bio privezan za rivu. Također, s jednim pomakom joysticka, kad se čuje 'zvučni signal', brod će krenuti u tom smjeru jednu stopu (30 cm). Dakle, tri uzastopna zvučna signala su jedan metar.
To se fino vidi na žutim vizualnim indikatorima (kao kod automobila pri parkiranju) koje su projicirane na Garmin chartplotterima. Po mojoj slobodnoj procjeni, s obzirom na valove, oscilacija je bila maksimalno 10 cm. Stručnjaci iz Volva s kojim sam razgovarao tvrde da sve radi i po vrlo jakom vjetru. Moram priznati da me prezentacija impresionirala i riječ je o zaista revolucionarnoj inovaciji.'
Garmin Surround View tehnologija koristi šest kamera od 1080p koje se nalaze oko plovila: kamera okrenuta prema naprijed na pramcu, kamera koja gleda odostraga na krmi i dvije bočne kamere i s desne strane. Kad je sustav uključen, prikazuje cijelu sliku iznad glave s prikazom videa u stvarnom vremenu od 360 stupnjeva s cijelog plovila izravno na kompatibilne Garmin plotere ili višenamjenske (MFD) zaslone upravljača. Dizajniran za povećanje vidljivosti i smanjenje mrtvih kutova, kapetani mogu gledati jednu ili dvije kamere istovremeno sa slikom iz ptičje perspektive, pa čak i zumirati i pomicati područje bilo kojeg pojedinačnog prikaza kamere.
Surround View sustav kamera odabran je kao pobjednik kategorije u izboru za 2021 DAME Design Awards. Surround View dobio je najviša priznanja u kategoriji 'Marine Electronics i Marine Related Software' na ovogodišnjem METSTRADE-u, najvećoj svjetskoj izložbi nautičke opreme, materijala i sustava, održanoj od 16. do 18. studenog u Amsterdamu.
Surround View sistem kamera pruža brojne funkcije proširene stvarnosti za povećanje svijesti o situaciji i izbjegavanje sudara, uključujući:
• Vizualni odbojnik-pruža vizualni pokazatelj na udaljenosti koju korisnik može konfigurirati i prikazuje kapetana kada objekti koji nisu u vodi, poput pristaništa ili stupova, probiju barijeru
• Oznake udaljenosti – nudi kapetanu vizualne znakove oko plovila kako bi pomogao u određivanju udaljenosti tijekom navigacije u bliskim prostorima, slično sustavima automobilskih sigurnosnih kamera
Tekst Filip Bubalo
Fotografije Garmin