Odmor u Hotel & Spa Iadera je opuštajuće, otmjeno i romantično iskustvo
Hotel & Spa Iadera ima pet zvjezdica i u vlasništvu je Iadera, a kao i sve njihove hotele, krase ga prostranost, futuristički dizajn i regionalni naglasci. Hotel nudi izvanredno mnogo aktivnosti za slobodno vrijeme, i to u ugođaju daleko od gradske gužve, što je nenadmašna kombinacija koju ćete teško igdje drugdje naći. Spa Acquapura proteže se na 6000 četvornih metara i prava je oaza opuštanja u kojoj vas čekaju saune, privatni spa saloni, unutarnji i vanjski bazeni, hidromasažni bazeni i impresivni hamam površine 700 četvornih metara – drugim riječima, sve što vam uopće može pasti na pamet pri definiciji wellnessa, ljepote i lifestylea. Spa nudi vrtoglavo mnogo tretmana posvećenih vraćanju ili očuvanju zdravlja, ljepote i blagostanja.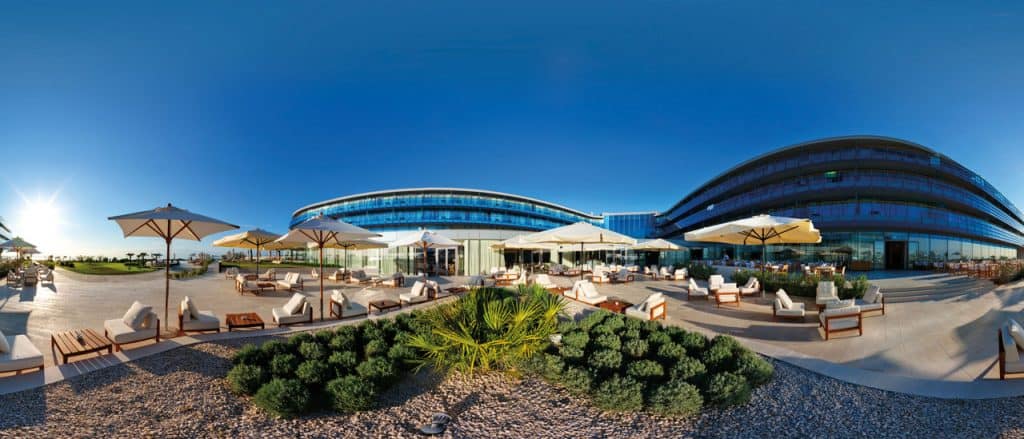 Hotel ima terene za niz sportova, pa tijekom boravka možete isprobati tenis, golf, mini golf, odbojku na plaži, košarku, mini tenis i badminton, a sve to možete igrati i noću. Hotel ima globalno orijentiranu gastronomsku ponudu kroz koju ćete postati kulinarski kozmopolit. Restoran La Veranda u svojoj à la carte ponudi koristi svježe lokalne sastojke, a ako vam je draže u dobroj hrani uživati uz more, tu su beach bar i restoran Bracera. Resort Punta Skala svake godine sve se više okreće sportu, a ove je godine teniska akademija počela već u travnju. Ako tražite mjesto na kojem ćete se odmoriti od svega, leći na plažu i pročitati dobru knjigu, baviti se sportom ili samo odmoriti uz neki od opuštajućih tretmana, Hotel & Spa Iadera pravo je mjesto za vas.
Fotografije Falkensteiner