Chaumet Joséphine: Probudite caricu u sebi
Današnji komadi dijamantnog nakita kolekcije Joséphine reinterpretacija su nakita koji se u prošlosti izrađivao za jednu od prvih svjetskih modnih influencerica
Prva velika klijentica draguljarske kuće Chaumet, carica Joséphine, inspirirala je graciozne i profinjene kreacije nakita već više od dva stoljeća. Karakterizirani vrhunskom izradom, svjetlucavim dijamantima najviše kvalitete i jedinstvenim dizajnom, ovi komadi nakita probudit će caricu u svakoj ženi i istaknuti njezinu ljepotu.
Carica Joséphine
Rođena usred karipskog otoka u bujnim vrtovima Martiniquea, Joséphine je uživala u profinjenom hedonizmu gdje se senzualni užitak miješao s izuzetnim ukusom. Prva carica Francuske u to doba bila je dama poznata po svom šarmu i gracioznosti, kao i ljubavi prema umjetnosti, botanici, modi i nakitu. Ona je bila žena koja je uvijek ostavljala dugotrajan dojam na ljude. Vođena svojom neizmjernom strašću, sretno se upustila u svijet nježnih osjećaja u kojima emocije svjetlucaju poput dijamanata, a zamršene su poput čipke. Predvođena svojom maštom, osmislila je nježan stil slaveći ljubav, život i dragocjene trenutke sa svjetlucavim draguljima i najrjeđim kamenjem.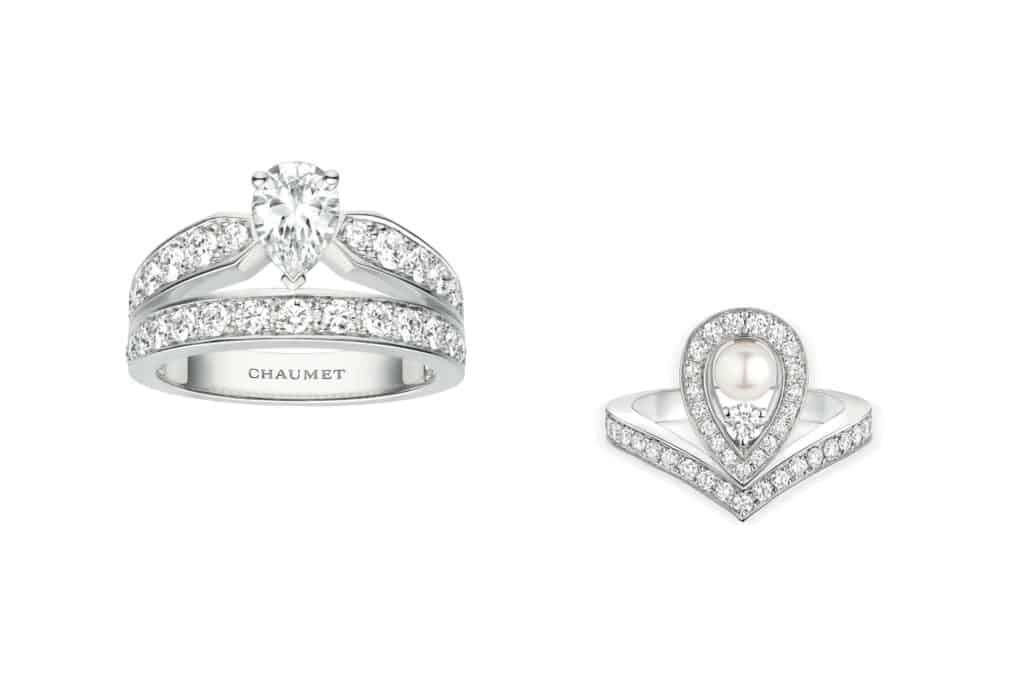 Kolekcija dijamantnog nakita Chaumet
Složenog karaktera, carica je imala hrabrost i samouvjerenost, kao i osjećaj za modernost i stil koji se često otkrivao kroz ljubav prema prirodi. Njezin najdraži oblik dijamanta bio je u obliku suze koji se proteže kroz razne komade nakita koji su često bili dijelom njezinih odjevnih kombinacija. Sve su to karakteristike dragocjene kolekcije nakita draguljarske kuće Chaumet koju je inspirirala voljena carica. Snaga i nježnost, ravnoteža i pokret, kolekcija Joséphine izražava stil Chaumet, sofisticiran i ženstven, rođen iz slavne povijesti.
Današnji komadi dijamantnog nakita kolekcije Joséphine reinterpretacija su nakita koji se u prošlosti izrađivao za ovu uzbudljivu caricu, a obuhvaćaju ogrlice, naušnice, narukvice i prstenja koji svojim oblikom neodoljivo podsjećaju na tijaru. Upravo ova kolekcija budi 230 godina stručne tradicije i suvremene kreativnosti, te u svakoj ženi donosi osjećaj istinske carice i modne ikone, koja ona zapravo i je.
Ovu prestižnu kolekciju dijamantnog nakita Joséphine draguljarske kuće Chaumet otkrijte u butiku Mamić 1970 u centru Zagreba, u Ulici Frane Petrića 7.
Fotografije Mamić 1970