Luksuzni boutique hotel Gredič mjesto je inspirirano prirodom, gdje se na savršen način spajaju autohtona gastronomija i vinarstvo s dobrim življenjem
Zbog Ferrarija, Lamborghinija, Paganija, Maseratija i ostalih važnih oktanskih poglavlja u automobilskoj povijesti, područje oko Modene naziva se i Terra dei motori (zemlja motora op.a). Analogno tome, pitoreskna regija Goriška brda, ili samo Brda, zbog svojih bi vinara vrlo lako mogla biti nazvana i zemljom vina, počevši od prvaka regije Zvonimira Simčiča, koji je cijeli svoj život posvetio rebuli i iz nje pravio čuda, poput zlatne rebule, koju još pamte neke poznate ličnosti tadašnje generacije, kao što je Rade Šerbedžija.
Pred kraj svoga života iz svoje je rebule radio i klasične pjenušce Medot, a njihov veličanstveni razvoj u vrhu slovenskih pjenušaca nastavio je unuk Simon. Tu su i svjetski prvaci mirnih vina Marjan Simčič, Kristančič, Ščurek i mnogi drugi, koji su Brda smjestili na vidljivo mjesto među svjetskim vinskim destinacijama.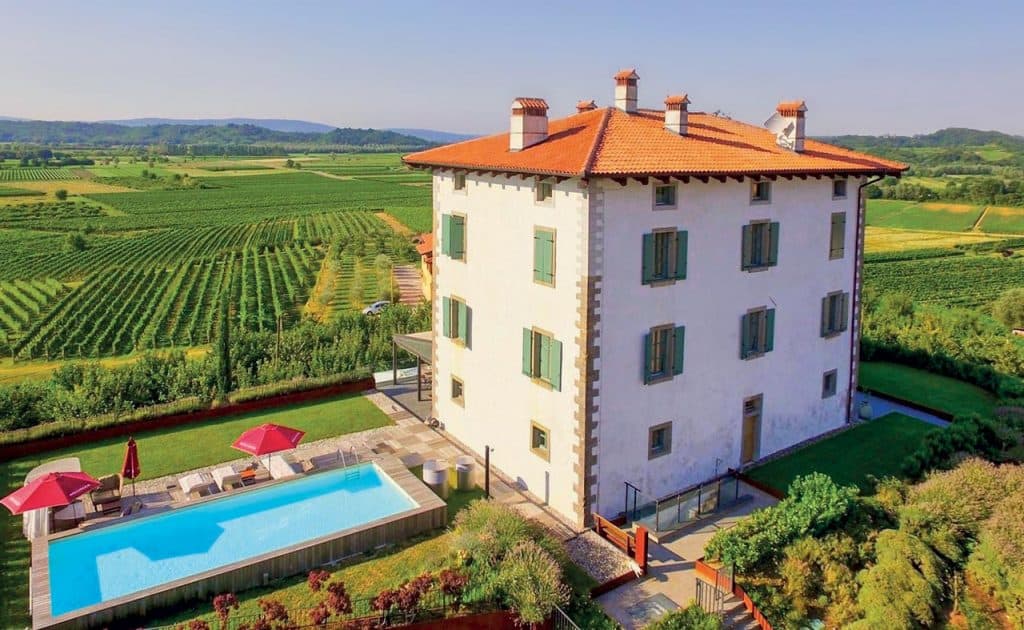 Ovi su vinari planetarno poznati, nije to mala lokalna priča, iako se u svjetskim mjerilima može smatrati boutique proizvodnjom. Smještena tik do granice s Italijom, na mjestu gdje pogled na Alpe oduzima dah, a vjetrovi s Jadranskog mora nježno miluju vinograde, ova je regija postala sinonim za iskonski hedonizam, vinarstvo i dobru hranu. Prije nekoliko godina scena je obogaćena luksuznim boutique hotelom Gredič koji vodi Simon Simčič. Impresivna vila sagrađena je prije otprilike četiri stoljeća i potpuno je obnovljena prije nekoliko godina, uz očuvanje povijesnog šarma te sofisticiranim isprepletanjem modernog i tradicionalnog.
Idilično mjesto za godišnji odmor nudi intimni boravak u sedam soba i apartmana s obiljem privatnosti, mira i udobnosti u fenomenalnom ambijentu. Ponudu upotpunjuje prvoklasni restoran u kojem se može uživati u sezonskim specijalitetima chefa Davida Bucika te spektakularan i dobro opskrbljen vinski podrum. Gredič je mjesto inspirirano prirodom gdje se na savršen način spajaju autohtona gastronomija i vinarstvo s dobrim življenjem. Da parafraziramo slavnu pjesmu iz mjuzikla 'Moje pjesme, moji snovi': The Hills are Alive. Brda definitivno pršte životom.